Page 2 of 2
Mr. Damodar Prasad Gautam
Ambassador of the Royal Kingdom of Nepal to the U.S.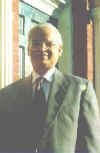 Mr. D. P. Gautam
"Journalists have it in their power to create harmony instead of divides."
(continued from previous page)
Leadership in South Asia
Those in the helm of politics believe in talking, rather than doing. They talk of harmony but they do not work. It is only work that transforms – not talk. Unfortunately, our people enjoy talking more than doing. People in our part of the world always think that some saviour will appear, take the leadership and transform the society – somebody like Gautam Buddha, Krishna or Gandhi. In the present day, one cannot expect that type of leader – one expects someone among the masses that will come and work with the people. Leaders have to come from us – and it will certainly not be somebody with miraculous powers to transform our part of the world.
Role of Journalism in South Asia
Journalists have it in their power to create harmony instead of divides. No one wants to be hurt – yet many people have been destroyed by pen than by those who carry axes, spades and sickles. Journalism should be ethical and responsible
Do you feel optimistic about a society where goodness prevails
Absolutely. Evil is temporary – it is transitory. It is goodness that is enduring. Evil has to be handled and scuttled. In the end Goodness prevails.
Challenges in life
The most challenging aspect of life is the liberation of people. It has not happened in our part of the world. Without political and economic freedom, or freedom from hunger, people cannot develop. The greatest challenge for me is the liberation of people from social, political and economic bondage.
On a personal level I face challenges every day. There are challenges that disturb me – I have to compose myself, speak coolly, act coolly and respond coolly.
Leisure
I love meeting learned people and listening to them. I also enjoy music and reading.
People admired
I have been inspired by Mahatma Gandhi and his teachings – his philosophy of reconciliation and inclusion. 'Ishwar Allah tero naam' has inspired me a lot. Another person I have admired is Nelson Mandela.
Qualities desired in others
People should be what they are – within and without. A real man is someone who is the same inside and outside, a man who thinks, speaks and acts alike. That is the most endearing quality in everyday life.
I would like the youth of South Asia to be more sharing and caring. They should care more about those who are less fortunate and they should try to share where possible. Their goal should be to develop and evolve a kind, generous, liberal society where diverse ideas can be developed. Life is not about 'you and I' – it is about 'we and us'.
_________________