Page 1 of 2
Malhotra – Hot on Ice!
By
Gina Shaw
Arrive Magazine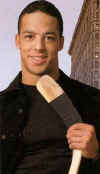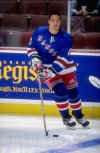 Manny Malhotra
New York Rangers centre Manny Malhotra is one of the youngest players ever drafted into the league. At 20, Malhotra is also the only Indian player ever to strap on skates in the NHL (National Hockey League). He has the Indian-Americans suddenly gripped to the game of ice-hockey. When he is not on the ice he loves "to walk around Times Square and people-watch." His music favourites are Dr. Dre, Funkmaster Flex, Mos Def, and Jurassic 5, and ..... Beethoven, Mozart, and the Three Tenors! Malhotra is the fourth and youngest child of a French-Canadian mother and a father from Punjab, India.
In 1998, when he was just 18, Malhotra was named Ontario Hockey League player of the year while skating for the Guelph Storm. He was immediately tapped by the New York rangers in the first round of the National Hockey League draft and racked up eight goals and eight assists in his first two years with the NHL, despite limited ice time.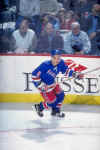 Hockey god Wayne Gretzky says, "Manny is the kind of guy, in eight, nine, ten years you can build a hockey team around." He's also got manners that would make my sainted grandmother smile, turning aside compliments with blushes that would light up a scoreboard.
Manny Malhotra may be a big-league hockey player, but he is also just a kid from Mississauga, Ontario. He is the youngest of four children from a close-knit family that focused on the values of religion and education. Coaches, sportswriters and teammates rave about Manny's humility, leadership and startling maturity – and, when you ask him who his heroes are, he mentions his parents first. "They brought us up to have good morals, first of all," he says. "And one of the biggest lessons I learned from them was to live life every day and enjoy it rather than looking to the future and worrying about things. Just take what you're given every day, and enjoy it to the fullest."
"My own opinion is that at the peak of Manny's career, he will be a second-line center, score 35 goals a year, be the captain .... ," Neil Smith

Malhotra held onto that lesson during a frustrating sophomore season, when amid messy power politics between then-rangers coach John Muckler and then-President Neil Smith, his playing time declined to practically nil. After returning to the Canadian juniors to play in the 2000 World Junior Championships, and a stint with the minor-league Hartford Wolf Pack at the end of last year, Manny returned to Ranger ice at the beginning of 2001 with a mandate from new coach Ron Low: get physical. Make things happen.
'No problem," says Manny. "They want me to play more of an energy-type role. That's an easy game to play," he declares. "You have to be smart in the sense that you can't get caught out of position trying to make a big hit, and you can't get caught running around, especially defensively. I just have to turn up the energy and play a real simple game." Turned it up he has, starting with the Rangers' preseason opener against Philadelphia when he sent three of the Flyers, well, flying.