Issue 5 / 2000

South Asian Ambassadors in DC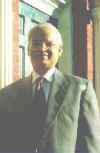 L-R: Mr. Naresh Chandra, Mr. D. P. Gautam, Dr. Maleeha Lodhi, Dr. W. Rasaputram
Just a few days prior to the new millennium, the-south-asian met with the Ambassadors of India, Nepal, Pakistan and Sri Lanka - in Washington DC. In our brief conversations with them, published in this issue, they share their views, beliefs, interests, and hopes, with the readers. One significant view they all share is that South Asia must be a part of the globalisation thrust and that regional conflicts ought to be resolved.

In the first of a series on historic South Asian cities, this article documents the milestones in the last 1000 years of Delhi's 3000 year old, or more, history. Delhi remains one of the oldest surviving cities in the world today. It has evolved into a culturally secular city – absorbing different religions, diverse cultures, both foreign and indigenous, and yet functioning as one

organic entity. Foreign travellers were hypnotised by it – books have been written on it since time immemorial, poets have loved it and Kings and Emperors have fought over it. The city has a history of resilience – plundered, looted and destroyed several times over by central Asian and Persian rulers – the city always returned to its cultural sophistication.This is the first of three parts on Delhi to appear over the next two issues of 'the-south-asian'.
Sunil Dutt - adding meaning to life

In this exclusive interview with 'the-south-asian' - Dutt Sahib relates his life experiences from the time he left his ancestral village Khurd (now in Pakistan) in 1947 to the time he went back on a visit - 50 years later. It was an emotional homecoming for Balraj - the name his village-folk still remembered him by. Dutt Sahib, as he is affectionately known, went to Bombay as a student, became a film journalist, and then a mega star in Indian films. His aspirations did not end there. He has been constantly on the move - be it flying to Leh to entertain the soldiers, walking from Bombay to Amritsar for peace in Punjab, driving through South Asian countries for peace in the region, rushing to Birmingham to help Imran Khan raise funds for his cancer hospital in Lahore, or jetting to Kenya to raise funds for a hospital in Nairobi. When he is in Bombay - he is seldom home. He is either helping the slum-dwellers or leading a campaign on AIDS in the red light districts - a man with a mission. A doer.
Introducing 'Technology Trends'
'Technology & Trends' will be a regular section henceforth. This issue looks at the latest in:
Optical Networks

B2B & The Killer Application

The Mughals ruled India for over 300 years. Each ruler left a lasting impression - in terms of policies, art, architecture, and military campaigns. Their rule ranged from one of extreme tolerance to one of extreme orthodoxy. They had intellectual leanings, their courts were rigid in sophistication and formality, yet - only the Throne mattered not the ties of blood. Brothers were murdered, fathers and sons imprisoned - by the same rulers who felt passionately about aesthetics. The one-pagers give information on them as individuals - their strengths and weaknesses, and likes and dislikes.