The print gallery

Special offers at ' the shop'


Adventure
| | |
| --- | --- |
| 2002 marks the beginning of celebrations of the first conquest of Everest, in May 1953, by Sherpa Tenzing Norgay and New Zealander Edmund Hillary, the two most famous names in mountaineering. A total of 1500 people have since reached Everest's summit (as of May 2001) and more than one-third of these summiteers have been Sherpas from Nepal - many among them have scaled the summit multiple times. Sherpa Appa holds the record for the most Everest ascents – he completed 12 ascents to Mt Everest in May 2002. Sherpa Ang Rita climbed Mount Everest 10 times without oxygen – yet another record. | |
Lifestyle
Super Achievers - what success means to them

Some individuals always stay on top. They all have one thing in common - passion and commitment. They have so many goals and interests in life that every negative emotion pales before their achievement-oriented lives. We asked some of India's super-achievers, in various fields, what kept them going, how they defined success and what it takes to be happy.
Science
Professor Indra K. Varma, a polymer scientist at the Indian Institute of Technology (IIT) in Delhi, developed the flame resistant polyamides for NASA; co-authored books; received the Dupont International Award for Polymer Characterization by Thermal Analysis. "Plastic waste management is one area where I would like to work in the future because this is an issue which is of concern to all of us today," says Prof. Varma who now occupies the Reliance Chair at the IIT.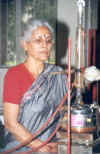 Environment

The Reincarnated Rickshaw

A group of environmentally-conscious engineers, with financial assistance from USAID, have re-designed the traditional cycle-rickshaw. The new version is lighter in weight and fitted with a 10-speed gear system, and has ergonomically improved saddle and seat. Many experts feel rickshaws are environmentally friendly and the only answer to the mounting pollution levels in mega cities.
Other articles:
The Reincarnated Rickshaw
'Ananda' - the spa in the Garhwal Hills
Baba Saheb - the grandson of the Sufi poet Baba Farid, is also the
grand old man of kite-flying in India. His collection of kites includes
one that is 207 years old.
Interview with Jeev Milkha Singh - The highest ranked Indian in golf,
Jeev has moved from a European ranking of 104 to 48 - the first Indian
to do so.

And more ......
Special Sections
the-south-asian data bank

Anniversary Issue