LIFE BEYOND THE ARCLIGHTS
- for the heroines of yesteryear!
by
C.Samayan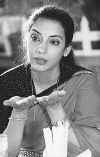 Back in the sixties and seventies they made hearts go a-flutter. They were every man's fantasy and every woman's envy. Superstars like Dev Anand, Rajesh Khanna, Amitabh Bachchan and more danced to their tune. They made unique fashion statements. From their hairdos to their clothes and accessories, their trend-setting ways were both admired and imitated.
But as the years rolled along, many of these reigning queens began bowing out even as the new millennium ushered in new films and new faces. But they were not consigned to oblivion. Some became mothers, some grandmothers, others became part-time celebrities, some immersed themselves in golf and politics, others started their own business. Many glamorous stars who ruled the silver screen in the sixties and seventies are back in the reckoning---as elderly TV and film stars, as authors, artists or simply as ribbon cutters. Whatever they did, they always remained in news.
Vyjayanthimala married Dr. Bali, brought up a son, continued her classical dancing, played excellent golf, entered politics and is still leading a full life at near-seventy.
Waheeda Rehman married a businessman, had two children, settled in Bangalore from where she runs her cereal business.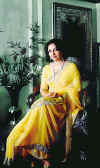 Sharmila Tagore has been keeping in touch with the glamworld ever since Bollywood arclights dimmed for her. Apart from featuring in suitings ads with husband, Mansur Ali Khan Pataudi, Sharmila also appeared as Aamir Khan's grandmother in the 1998 film, Mann. She has also done a serial on Star Plus called Zindagi. In personal life, Sharmila is said to dabble in gems and pearls and is an in-demand name as far as inaugurations and ribbon-cutting ceremonies go.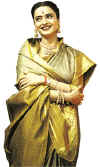 However, some like Rekha simply do not have an aptitude for business or showroom inaugurations and are pure artists. Which explains why she never seems to age and has zealously guarded her looks and figures. She looks as glamorous and vibrant, if not more, in Zubeida as she did in the seventies' blockbusters which starred her opposite Amitabh Bachchan.

In fact, after Zubeida, Rekha has gained a fan following which could rival that of any top young heroine. Now she has been signed on by Prakash Mehra to do the title role in his forthcoming comedy Mujhe Meri Biwi Se Bachao where she plays an obese homemaker who goes through a weight loss course and starts looking vivacious and glamorous all over again.


Many other heroines of the seventies era, have opted for arty roles.Jaya Bachchan

made a new niche for herself in the art roles of the motherly kind. First in Hazar Chaurasi Ki Ma and then as the depressive mother of Hrithik and Karishma in Fiza, which won her a Filmfare Award.After lying low for over fifteen years, Rati Agnihotri recently made a comeback in Rahul Rawail's Kuch Khatti Kuch Meethi as Kajol's mom. And she carried herself gracefully opposite Rishi Kapoor. The two are said to have hit off so well as an aging on-screen couple that they are signing many films together.

Rakhee too has been under the arclights - doing motherly roles. She retains her legendary freshness and charm and is still the pretty woman who took cinemagoers by a storm in the seventies when she made her debut in Jeevan Mrityu and went on from one success to another. She has been through two marriages and has had her lows in life. She is also a sought after mature model.having appeared recently in an ad for Art Carat, a designer jewellery outlet.
However, unlike Jaya, Rakhee and Rati, Zeenat Aman has gone the small screen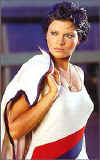 way. Today she dismisses the image of the Dum Maaro Dum girl with a casual wave of the hand and the rich, spoilt brat she played in some of her hit films only brings a fleeting blush on the faintly sad face.The oomph girl of the seventies, Zeenat has found yet another image - that of a TV show hostess on B4U. 'In Conversation with Zeenat' is a lively half hour programme where she talks with guests on wide-ranging issues.The 'conversation' has all the ingredients of scaling up the charts as it promises to be different. And if Zeenat can dig out some of her old magic, it is guaranteed to be as big a rage among women as her movies once were among the men.

Television also seems to be the preferred medium of the seventies Chamko girl, Deepti Naval after she bid farewell to Bollywood. She entered the world of TV serials as the director-heroine of Thoda sa Aasman and a lead in the 104-part Tanav, the first megaserial on AIDS. Later, however, she began taking a keen interest in other things like poetry, photography and direction.

" I didn't want to end up wearing white wigs and doing mother roles," says Deepti, still looking stunning as she enters the forties. Her latest manifestation is that of a high profile model. But, she adds that she would not mind doing art films like Hyderabad Blues and Bombay Boys. In fact she recently did the role of a social worker in the America-based director Jagmohan Mundra's Bawandar.

Hema Malini has devoted herself to her two daughters and runs a very successful Dance academy.

Dimple, however, has stayed away from films for the last couple of years and has been devoting her time to the colourful candles she manufactures. However, this national award winning actress may now be planning to go into her second innings in films with the kind of role she did in Mrityudand. Why does she want to do that after she had said a virtual farewell to the big screen? Well, the answer is very simple," says the lady,"I needed the money. No, I am serious. I couldn't afford the costly cosmetics I'd got used to." Now that's the most original scent of poverty, if ever there was one!
______________________


Copyright © 2000 - 2001 [the-south-asian.com]. Intellectual Property. All rights reserved.