South Asian presence at Davos 2001
- what it was all about.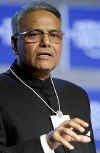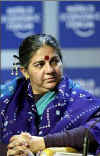 Three of the South Asian voices heard at Davos: L-R: Yashwant Sinha, Minister of Finance, India; Vandana Shiva, Director, Research Foundation for Science, Technology and Ecology, India; Raj Reddy, Professor of Computer Science, Carnegie Mellon University, USA.
(Photos Courtesy: swiss-image.ch)
Every year in January, leaders of industry and other prominent individuals get together in the ski resort of Davos, Switzerland, to brainstorm and discuss what ails the world and how it can be remedied. The meeting is known as the World Economic Forum. Cynics refer to the meeting as the annual 'shmoozing' of the 2000 'global movers and shakers' at Davos. The theme of the Annual Meeting this year was Sustaining Growth and Bridging the Divides: A Framework for Our Global Future. This year's gathering took place at a time of global economic uncertainty and political change.
Founded in 1971, the World Economic Forum is a non-profit economic think-tank made up of business, political and academic leaders. It was set up to "discuss a coherent strategy for European business to face challenge in the international marketplace". The forum has grown from a European into a global organisation and the issues emerging from the global economy were at the core of this year's Forum, which looked at redefining the notion of corporate social responsibility in the economy of the 21st century.
Davos was where the first meeting was held in 1970. It is said that Klaus Schwab, founder of the Forum, sticks with Davos because he enjoys the skiing and thinks the resort is more attractive than a city venue.
Of the 320 sessions held over 6 days – over 70 were linked to South Asia.
The two key areas involving South Asia were the issues of globalisation and the digital divide. Among the many representing South Asia, were some whose views on the critical issues are highlighted below. All quotes are drawn from summaries of various sessions of the Annual Meeting.
next page
( This page has been compiled from information available on www.wef.com)