Issue 2 / 2001
Features

South Asian voice at Davos 2001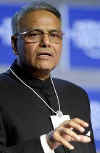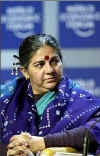 Every year in January, leaders of industry and other prominent individuals get together in the ski resort of Davos, Switzerland, to brainstorm and discuss what ails the world and how it can be remedied. The meeting is known as the World Economic Forum. Of the 320 sessions held over 6 days – over 70 were linked to South Asia. The two key areas involving South Asia were the issues of globalisation and the digital divide. Among the many representing South Asia, (Azim H. Premji, Fareed Zakaria, N. Chandrababu Naidu, Vandana Shiva, Yashwant Sinha, Masood Jabbar, M. Sawhney, Raj Reddy and Rajat Gupta - to name a few) were some whose views on globalisation and digital divide are highlighted in this feature.
Sadhus - the Spiritual Adventurers of India by Dolf Hartsuiker




Spiritual adventurers, ascetic warriors, devout mystics, occult rebels or philosophic monks, Sadhus remain a metaphysical curiosity. The media at the recent Kumbh Mela in Allahabad also focused heavily on Sadhus, who were present at this cosmic mela in thousands. Dolf Hartsuiker who is also the author of the book 'Sadhus, Holy Men of India', writes about their practices, beliefs and different sects, not excluding the increasing number of disciples from the Far East and West.
Technology and its positive role in combating poverty

A Digital Divide or Digital Opportunity? - A positive South Asian focus on this issue through three information loaded articles:

Reinventing India by Mira Kamdar
Role of Internet in South Asian development by Salman Saeed
Digital yet Rural Success Stories from South Asia
Other Articles
Sundown 'Madness' at Wagah Border Post
and more.....
Books available from the-south-asian