Issue at Copenhagen Climate Summit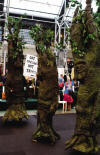 Activists from Avaaz.org dressed as trees protesting against deforestation

– To keep the rise in global temperature below 2C.

How?
Reduction of greenhouse gases – 25-40% by 2020, and 80-95% by 2050. Fossil-fuelled developed countries, need to make the deepest cuts.

Limiting emissions in fast-growing economies. These countries, where millions of people live on less than $1 a day, have small carbon footprints.

Richer nations – the major polluters – to develop and finance clean-technology infrastructure, and to help fast emerging economies to go straight to low-carbon economy. The cost could range from $100-600 billion a year.

Top-down or bottom-up? Developing countries want a top-down approach – the Kyoto Protocol – which places responsibilities on rich countries. Developed countries are keen on a bottom-up approach where each nation takes responsibility for its own emissions. Developing nations want the money distributed by the UN, where they are better represented. Developed countries prefer the World Bank and other institutions where they wield more power.

About 17% of all the carbon emission results from cutting down trees. Stop deforestation.

Climate Change – what it's all about

Global Warming

Global warming will continue unless carbon dioxide is brought under control. As the carbon dioxide increases in the atmosphere, more heat is trapped around the earth – as within the glass of a greenhouse – hence the 'greenhouse gas effect'. Global temperatures are increasing due to a rise in carbon dioxide in the atmosphere resulting from irresponsible human activity. Rising temperatures cause a rise in sea levels and changes in rainfall pattern

Warming Oceans

The oceans have warmed to depths of more than a kilometre. In fact, almost 90 per cent of the greenhouse warming is absorbed by the oceans. Warmer waters reduce the growth of CO2-absorbing plankton, resulting in more CO2 remaining in the air.

Retreating Glaciers

The rapid melting of Himalayan glaciers, which according to the IPCC could be gone by 2035, is increasing the volume of river water flows during the summer – but once the glaciers are gone, the rivers will depend entirely on the rains.

"Greenland is losing around 250 billion tonnes of ice a year, enough to raise sea levels by 7 millimetres a decade. Antarctica is losing nearly as much, mostly from its vulnerable west side, which is perched on top of submerged mountains. Together, these ice sheets are currently responsible for less than half of sea level rise, which is currently at about 30 millimetres a decade."

CO2-emitting fossil fuels


Use of CO2-emitting fossil fuels such as coal and oil will have to be replaced by low-carbon options like solar, wind and biofuels; nuclear power and electric cars. Carbon capture and storage (CCS) technology is still many years away. Though not entirely carbon-neutral, it could cut emissions from burning coal by at least two-thirds.

The European Union has a target to get 20 per cent of energy from renewables by 2020.

Deforestation


Deforestation causes around 20 per cent - the single-most important cause - of greenhouse gas emissions every year. Trees are the greatest inhalers of CO2, and cutting down trees leaves more CO2 in the air. All nations must stop deforestation.

REDD or Reducing Emissions from Deforestation and Degradation looks at ways to help provide alternative incomes for the marginalised people living in and around the forests, who cut trees for a living.

Prince Charles, a great campaigner for trees, warns "If we lose the battle against tropical deforestation, we lose the battle against climate change".