'Devdas' - Sharat Chandra's Disclaimer!
by
Sudeep Sen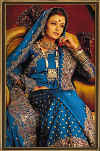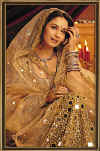 L-R: Aishwarya Rai as 'Paro', and Madhuri as 'Chandramukhi' in 'Devdas'
(Photo courtesy: official website of Devdas)
I first saw the engaging posters of Devdas at Selfridge's celebration of Bollywood in June. Being a Sharat Chandra follower, I was looking forward eagerly to the remake of a film legend - though, by no means, Sharat Chandra's best piece of fiction. The sepia toned shots of Aishwarya Rai and Madhuri Dixit in period costumes of early 20th century feudal Bengal, set off the Early Warning System of the skeptic within me. However, I would wait for the film, I convinced myself.
The film opened worldwide amid mega-hype and soaring expectations - most of us had already read of the zillions that had gone into the construction of the film's sets. But even that bit of trivia did not prepare me for the stained glass nightmare projected in the first few minutes of the film - the house that Devdas lived in. The opulence and the grandeur of the sets had a momentary dizzying effect, soon taken over by an even more lavish display of clothes and ornaments of the women in the two households.
The film excels in the realm of unrealism - no expense or thought was spared to make it into a visual extravaganza to compensate for the lack of serious or seasoned acting by Shahrukh Khan. He was a poor choice as Devdas, his performance unconvincing as the sensitive and passionate lover. Madhuri, as the earthy Chandramukhi, was the winner. Her warmth and love for Devdas was the only realistic bit in the film. Aishwarya, with her clinically perfect face, still looked every bit the Miss World that she is, and not the simple Bengali girl of Sharat Chandra's 'Devdas'.
The world of Sharat Chandra's 'Devdas' was about the power and control that Bengali women held over their husbands and their family - a control that they haven't let go of. (Their need to control and dominate could easily define them as control freaks ! - ask anybody married to one!) However, this theatrical and operatic version of 'Devdas' is not about social issues of early 20th century feudal Bengal - it is all about glitz and glamour. It is Sharat Chandra's Disclaimer.
___________________