KANCHAN JHA
- a mission at 15!
by
Isidore Domnick Mendis
At 15 she is one of the most sought after teachers. And her 'school' is an open-air piece of land in a sprawling slum. Yet Kanchan Jha is ensuring that kids get the education they deserve. Little wonder that the U.S. government invited this teenager from a Delhi ghetto to speak on the child's right to education. Last year, with support from CASP, Kanchan, along with three of her friends, formed a Bal Manch, or a children's parliament in October 2001 in her slum area. " They meet every Sunday to discuss small issues related to themselves and their surroundings. They also try to find solutions to problems in their immediate community.
Books in hand, every morning she is ready exactly at seven. Not to go to school but to teach in one. Her mission---to impart education to kids living in a sprawling south Delhi slum settlement. Once she has done that she attends a regular school in the afternoon shift.
" The kids in I teach know as much about the subjects as I do," says Kanchan Jha who is making a qualitative difference to the lives of kids who have either dropped out or are too poor to attend school. And Kanchan is just 15.
Back in 1992 her parents faced the dilemma of having to withdraw one of their children from school. Father Vinod Jha was a labourer in an Iron factory in northwest Delhi's Alipur district and his income was insufficient even to meet the daily requirement for food let alone education and other necessities.
There was just one way to cope with the problem. Withdraw one of his four children from school. Even though the kids were enrolled in a government school, education had some invisible costs that the family could ill afford. Kanchan was the one beginning school and could easily drop out. Besides, she'd be useful in assisting in the household chores. Having taken the decision to keep her home, the parents hoped that life for their kids would be more secure as far as food was concerned.
However, what they had not reckoned with was a NGO. A neighbour told a visiting programme officer of the Community Aid and Sponsorship Programme (CASP) about Kanchan's fate. Seeing the conditions of this poverty-stricken family, the NGO offered to sponsor her education if the parents ensured that Kanchan would continue regularly at school. Luckily for Kanchan her parents agreed.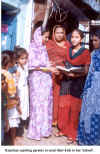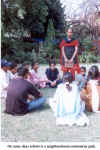 Kanchan convincing parents to educate their children; with her 'students'
Today, ten years down the line, 15-year-old Kanchan Jha is the moving force behind ensuring all children in her community enroll and attend school. Coming a long way from her playful days with her friends in a slum settlement in South Delhi, and nearly having missed her own education, Kanchan could have hardly realized that one day she will become a key advocate supporting the rights of children to education. That one day she would represent the disadvantaged Indian children at the United Nations Children Forum and speak on the relevance of education for the girl child.
Drop Outs
" I live in a locality of very poor people," says Kanchan. " Here kids go to school but are rarely able to sustain it due to sheer poverty. They are often pulled out and put to work so that they can supplement the family income." This starts the vicious cycle. The parents don't have money for education and without education the children can't break free of the bondage of poverty.
Unlike many others who succumbed to the pressures of circumstances, Kanchan was lucky to get timely support. " If CASP had not helped me, it would not have been possible for me to continue my studies" says the teenager.
Kanchan was always an exceptionally bright child in academics. She was a topper right from class one. Presently in the Government Girls'Higher Secondary School she has secured fairly good marks in the CBSE class X examination.
She realizes that she has been luckier than most children and would like to do her bit in return for other deprived children, particularly girls who miss school more often than boys.
" I am an ardent supporter of education for girls. I feel sorry when I see the rights of the girl child not implemented in their true spirit. Whether it is their right to compulsory education or for parity within the family, girls hardly have any rights," says she.
Last year, with support from CASP, Kanchan, along with three of her friends, formed a Bal Manch, or a children's parliament in October 2001 in her slum area. " They met every Sunday to discuss small issues related to themselves and their surroundings. They also tried to find solutions to problems in their immediate community ," says Saswati Nanda of CASP who is the coordinator Primary Education Enhancement Initiative (PEEP) supported by UNICEF and National Institution of Urban Affairs.
Bal Manch has undertaken many child-related activities such as ensuring re-admission of school drop-outs who had opted out either due to economic emergencies or exam failure, child marriage and poor hygiene and other child-related problems. The Manch works on very democratic principles It meets every Sunday and elects a president from amongst the existing 28 members. During the week's tenure as President, the elected child has to ensure that all decisions taken on that Sunday are attended to before the next Sunday meeting."
In recognition of the efforts, the International Centre for Research on Women (ICRW) in the United States and the United Nations General Assembly Special Session (UNGASS) selected Kanchan to attend the Children's Forum from 5th to 7th May 2002 and be a child delegate at the UNGASS from May 8-10.
Economic Empowerment
At the Children's Forum Kanchan spoke eloquently on the theme, Youth–Adult Partnerships and Good Governance. She presented her own perspective on the role of girl's education in economic empowerment of women and children.
Punctuating her presentation with the example of her Bal Manch activities, she recommended that governance should be people-oriented particularly focused towards the poor. The Children's Forum was attended by 350 child delegates from different parts of the world. Kanchan also met officials of the World Bank and Congressmen at Washington DC
Was she nervous at the UN General Assembly? "Not really. Kanchan has always been an outspoken girl with complete clarity on rights issues concerning the girl child. This was not her first time that she spoke in front of an intimidating audience. In January last she, along with two other children, met President K.R. Narayanan to request him to have parks built around slum areas.
In another meeting with CASP vice president and former Cabinet Secretary B.G.Desmukh, Kanchan was critical of the quality of education in government schools and requested the authorities to provide support material. " We need reference books to get a good grasp of subjects," she told Desmukh. And sure enough she secured them for the school library.
The secret behind the success of this girl from a ghetto is her single-mindedness. "She is very focused. She knows what her aim in life is. In addition, there is parental support to count upon. Her mother Binjula ensures that all her children are left with ample time to study by managing the household tasks. Father Vinod Jha makes certain that kids go to school. He has no vices that drain away his income and the family gets its two square meals daily.
Kanchan however feels that education of children has to be linked to adequate livelihood opportunities. "Parents should be able to earn a minimum wage that allows them to meet their household expenses and support children's education".
Kanchan, whose icon is Mother Teresa, has a vision to make sure that every child in her community goes to school and that there are no drop outs because of poverty. " I want to be a social worker and do my doctorate in that subject," asserts Kanchan. " I want to do everything to ensure education for girls."
Fifty-five years after independence and fifty-three years after articulating the directive principle for full and complete education of all children in the country, universal education coverage still remains a desire in the minds of many parents and children.
It is only rarely that a Kanchan dares to dream. And even achieve her aspiration!
_______________________