INDIA'S MOST FASHIONABLE WEEK
by
Nutan Sehgal
Over the past two years the India Fashion Week has reflected the grandeur and opulence of Indian haute couture. This year too the glitterati is getting ready for the high profile event that will showcase the latest trends in clothes. The India Fashion Week from August 2 to 8, will set the trend for what's going to be hip-hop.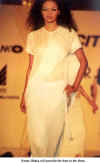 Rina Dhaka's creations will provide the dare at the fashion week.
It will be the mother of all fashion shows - 48 top-of-the-line models displaying over 1,000 dresses of 53 leading designers of India. The India Fashion Week from August 2 to 8, will set the trend for what's going to be hip-hop. Organized by the Fashion Design Council of India [FDCI], the event title-sponsored by Lakme, will showcase the Pret-a-Porter [ready-to-wear] and Diffusion [a line between ready -to-wear and couture/bridal] collections of some of India's top designers.
Among those who will showcase their stuff through the seven days are Anju Modi, Ashima & Leena, Ashish Soni, JJ Valaya, Meera & Muzaffar Ali, Rina Dhaka, Raghuvendra Rathore, Ritu Kumar, Rohit Bal and many more on the fashion constellation.
Ritu Kumar, in a departure from her usual style, will focus on natural fabrics. She will be displaying stonewashed denim shirts, lycra tops and cotton-wrinkled skirts.
Ashima and Leena will have a line of stunning creations that are essentially Indian but with a strong western influence. They will be displaying Chinese georgette with Indian block printing. The kurtas too are original in nature - some are knee-length and others sleeveless in free-flowing material.
Two years ago, in the first ever India Fashion Week, 32 designers from eight cities across the country presented their pret lines. Following the success of the event, the second fashion event last year in Mumbai, witnessed collections of 44 designers, showcasing both pret and diffusion lines.
This year Rina Dhaka with her transparent and semi-transparent attire will provide the dare at the fashion event. Most of these designs, says Dhaka, are for her international clients one of which is Selfridges.
Rohit Gandhi can also be depended upon to lend sartorial fireworks with plunging necklines and mini skirts. But he admits a part of his attire is essentially drama. Though most of it makes business sense.
Resplendent Collection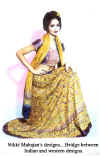 Nikki Mahajan - working with hand-woven fabrics
Another designer to watch out for is Nikki Mahajan. Her resplendent collection is a bridge between western and Indian ensemble. She is working with specially hand-woven fabrics, which have various blends on one surface. She has worked with lace, crochet and delicate braids as an ode to romanticism. Delicate chiffons, organzas and multi-layered fabrics are worked in traditional patterns and unique geometrical formats. The colour palette too is very vibrant.
Business is the most important part of the fashion week. Recognising the need of the new designers to be prepared in advance on the sales and business front, FDCI organized a workshop titled, Business of Fashion which touched on subjects ranging from logistics, managing intellectual property, tax issues, labour laws and other issues pertaining to production and quality.
Says Anil Chopra, business head, Lakme Lever, " This event continues to be one of our biggest initiatives and provides us a great opportunity to take contemporary fashion to the doorsteps of the Indian woman."
This year Lakme has selected three leading designers, Suneet Varma, Monisha Jaisingh and Rajesh Pratap who will display the latest fashions. While last year's trend-setting statement, Shimmer, Shine and Sparkle received a great response from consumers and trade, the company is confident of exceeding expectations this year as well.
FDCI has retained IMG to handle all the commercial aspects and the management of the event. As many would know, IMG is the world's largest sports, leisure and entertainment marketing company which owns and conducts 7th on Sixth [New York Fashion Week] and IMG Models, the number one modeling agency in the world.
Striking Creations
One of the designers to look forward to is the former J.J.Valaya's assistant, Ashish Pandey. The NIFT graduate is very upbeat about his striking creations. He says he has come a long way from his wacky designs of 1995 and has learnt a lot from Valaya in terms of striking the right balance between marketing and creativity. His garments have a unambiguous new age look with a special appeal for the new generation.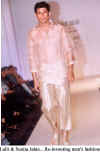 Lalit and Sunita Jalan - bringing male fashion out of the closet
Another fast rising duo, Lalit and Sunita Jalan are sure to make an impression in the fashion week. The couple uses a wide variety of natural and ultra modern fabrics embellished with a touch of embroidery and surface ornamentation. Considered the best men's fashion designers of Kolkata they don't mind bending the rules to bring male fashions out of the traditional closet.
A `by invitation only' event, India Fashion Week 2002 is expected to have over 15,000 visitors ranging from buying houses to domestic and international trade buyers, textile industry, media as well as sponsor and designer guests. During the week, the event will also host a range of interactive `business of fashion' seminars.
Attendees will not only witness the latest collections from India's leading designers, but also get to see India's best --- models, make-up trends, hairstyles and accessories for the upcoming season.
But on a more serious note, the India Fashion Week year after year dips into the Rs. 55,000 crore ready-to-wear market with price bands ranging between Rs. 800 and Rs. 10,000 a dress.
The metamorphosis has come about after designers realized that it is one thing to relentlessly pursue moneybags with marriageable children and quite another to retail to the burgeoning Indian middle class. Though there is big money to be made in retailing at sensible prices, those who can strike a balance between the two would truly emerge as serious designers.
_____________________