Kiran Bedi
- the Supercop's 'Real Salute'
by
Surabhi Khosla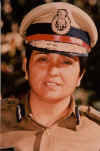 India's Supercop Kiran Bedi (left), as a ragpicker (right) in a short documentary

India's first lady IPS officer, Magsaysay Award-winning social worker and reformer, Kiran Bedi has donned another cap - that of an actress. 'Real Salute' - a new documentary on national integration features her in the title role of a rag picker…

Kiran Bedi has been portrayed extensively on the big and small screen. A line of actresses have played the role of a police officer. In fact she has also been the subject of a hit TV serial, Udaan.

But now Kiran Bedi seems to be stealing the thunder from all the wannabe starry supercops. For the first time ever, the Magsaysay Award winning IPS officer has donned the grease paint for a new documentary, The Real Salute. Produced by the Chennai-based Malar Network, the documentary on the theme of national integration has the celebrated cop playing the role of a poor old rag picker.

" Since I had never acted earlier I took it upon as a challenge. What fascinated me most about the script was that it was about the spirit of nationalism and patriotism. There was simplicity and truth in the concept. I believe that certain nefarious forces are out to destroy the Indian fabric," says Bedi.

Besides being a first-time actress the other challenge for Bedi was to wear a sari - after several years - to portray an old woman effectively. " It was a challenge I accepted with happiness!" says she with a smile.

Shot in Gurgaon, near Delhi, the idea of the film first came to the mind of directors Shakti and Guna when they were walking through a village and came across the Indian Tricolour dumped in a garbage can and torn from one end. " The very fact that the national flag was lying so disrespectfully was a statement in itself. And that is the basis of this documentary," they say.

The film is based on this real life experience in which Bedi plays the ragpicker who

discovers a torn Indian flag in a village dustbin. She picks it up and upon examining it closely she discovers that part of the green colour of the flag is torn. She then rips her green saree and stitches it on the torn portion. That done, she mounts the flag on a pole with pride and happiness.
" When we began short-listing people to play the title role, our choice automatically fell on Kiran Bedi, who is today a role model for young people and everybody looks up to her with a feeling of hope," says Gopaljee, the producer of the documentary. But convincing the high profile police officer was no easy task. Instinctively she said no.
Real & Reel Life
Yes, she agrees, besides being a supercop, she has played a number of real life roles---a reformer, a committed social worker, an author and a voracious public speaker. " Acting, however, was an altogether different ball game," she says. But the filmmakers' perseverance paid off and Bedi finally relented to try her hand at acting as well.
" I am delighted to see the completed version and I am sure it will be a hit with everybody who watches it," says Bedi and adds, " the Indian flag should be respected not just on certain days of the calendar but everyday.
The Real Salute has been made in five languages---Hindi, Tamil, Telugu, Kannada and Malayalam. While renowned Bollywood playback singer Sadhna Sargam has lent her voice for the title song, Tanha, Tanha Dagar Pe Aane Jaane Vaalo, the Telugu and Kannada versions have been sung by S.Janaki. Sandhya and Chitra have rendered the song in Tamil and Malayalam respectively.
Shot in just a few hours the 3-minute documentary tries to imbibe the spirit of patriotism in the present generation. Though the theme may be moralistic its treatment and presentation is unusual. And the fact that it features one of India's most dynamic personalities lends it credibility and depth.
" I think films with social messages are important for an evolving society like India. The airing of such films should be made mandatory for all television channels free of cost," says Bedi.
Would the documentary embark her on a new career---acting? " Who knows? If the theme is about a social issue or promotes national integration I wouldn't hesitate to take up the offer. But the films would have to be short since I am tight on time, " says Bedi whose most satisfying role in real life has been that of the Inspector General (Prison) when she undertook the Herculean task of reforming Delhi's notorious Tihar Jail.
Super cop, author, social worker, reformer, guest speaker and more. How does she manage her time? " By remaining focused," is her cryptic answer. And focus is something that Bedi has never lost both personally and professionally---whether it is extending the long arm of the law or acting the role of a patriotic ragpicker in a film.
________________________