Muzaffar Ali
- a man for all Arts
by
Veenu Singh
HindustanTimes.com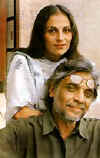 Muzaffar Ali with wife Meera
A film-maker, a fashion designer, a poet, an artist, a music-lover, a revivalist, a social-worker – all this and more define Muzaffar Ali's ongoing quest for new ventures. Ali recently brought out an album Paigham-e-Mohabbat , which has lyrics by some of the sub-continent's most distinguished poets - Ali Sardar Jaffery, Ahmad Faraz, Rahi Masoom Raza, Faiz Ahmad Faiz, Qazi Nazrul Islam and Jan Nisar Akhtar, and is now gearing up to direct his first opera Le Fakir De Benaras in New Delhi this year. Ali believes that only the artists of the subcontinent have the power to restore peace in the region.
Muzaffar Ali's life is a constant journey of self-discovery, in whatever he does and in whichever medium he chooses. Be it films, paintings, costumes, music or more recently opera, there is a constant quest to unravel the mysteries of life and to find a long-term solution to worldly strife and anguish.
Perhaps that's the reason for Ali's ever growing interest in Sufism – because of which the artist reflects on a different plane through his art. Yet his art is not escapist, the artist is sensitive to things happening around him. In fact, he says, his art becomes his prayer.
That according to Ali is one reason why he has never thought of making commercial films, the kind that appeals to the masses but gives no satisfaction to its maker. "All my films are a diary of my journey through life; and they provide me with a bigger canvas than painting to express my creativity. That's why, I have no regrets about not making more films," says Ali who has films like Awadh, Gaman and Umrao Jaan to his credit.
But films for Ali are really an integration of all art forms, with music being the actual screenplay. "I spend a year on the music of the film," explains Ali who feels that music evolves from a blending of cultures. Probably that's why his latest offering Paigham-e-Mohabbat (songs of love) deals with memories of Partition and dreams of a 'united India'. The lyrics for the songs have been penned by some of the sub-continent's most distinguished poets like Ali Sardar Jaffery, Ahmad Faraz, Rahi Masoom Raza, Faiz Ahmad Faiz, Qazi Nazrul Islam and Jan Nisar Akhtar. The singers include the likes of Abida Parveen and Moin Khan. Paigham is essentially based on patriotism and voices the anguish of people who suffered the Partition and rejected artificial boundaries that divided their heritage and nostalgia," says Ali who firmly believes that only the artists of the subcontinent have the power to restore peace. Ali's previous albums include Jahan-e-Khusrau, a tribute to Hazrat Amir Khusrau, Raqs-e-Bismil (Dance of the Wounded), a collection of ghazals inspired by the couplets of Rumi. His debut album, Jaam e Ishq, was a musical ballet based on the works of a 13th century Sufi poet.
Ali likes to try out new things and is always looking for new avenues to express his creativity. For this he has agreed to direct a classical opera to be performed in Delhi next year. The main motivation behind accepting the opera, he says, was that it would give him a chance to blend the music of the West and the East. Though it has been tried in films it has not helped in creating a powerful genre of music. While the main music in the opera will be western classical, a small percentage of Indian music and instruments will also be used. Titled Le Fakir De Benaras, the opera is being produced by 28-year-old Priya Wacziarg (daughter of Francis Wacziarg of Neemrana Hotels) who found the scores for it on the streets of Paris, written by a little known composer L. Maneul. Le Fakir... revolves around a plain-looking woman called Sundera who falls in love with a handsome, but blind, young man. Things work out fine for them till one day an old fakir with magical powers comes to town and restores the blind man's eyesight. Thus begins the tragic tale of Sundera, who's rejected by her lover when he sets sight on her face for the first time. The opera will essentially be in French, interspersed with summaries in English and the music is by Delhi Symphony Orchestra. Wacziarg herself will be playing the lead role and the costumes are designed by Meera Ali, Muzaffar's wife. "The story has action, romance and drama quite like a Bollywood blockbuster," adds Ali who has been taking lessons in western classic music for the past one year to do justice to the opera.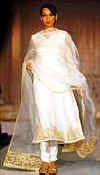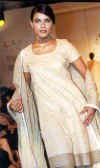 Muzaffar Ali's Kotwara range - named after the place he belongs to.
As a fashion designer, Ali's Kotwara label is ethnic, aristocratic - timeless, yet cinematic. Aesthetics are crucial to Ali in all the clothes he designs. "What we design concerns the human habitat and human expression through art, be it film, music, painting or poetry. Clothes therefore are part of a larger philosophy – what appeals to you as beautiful and striking is a coming together of these elements and reflects the Master Designer", says Ali.
The arts is not the only thing Ali has submerged himself in. His strong belief in Sufism, which began when he was shooting for Zooni in Kashmir, led him to feel that it was his duty to be responsive and sensitive to the human and natural environment. So, he and his wife launched a movement for rural development with a focus on employment-oriented education through a charitable society, 'Dwar Pe Rozi'. This society runs a primary educational school for 300 children and has several craft training centres for women in villages around Kotwara in Uttar Pradesh. Ali, meanwhile, continues to reach for the depths of each medium he works in. Perhaps, that's where his answers lie!
__________________
Copyright © 2000 - 2001 [the-south-asian.com]. Intellectual Property. All rights reserved.