Page 1 of 2
BHERA - the town that time forgot
Part II
By

Salman Minhas

Copyright the-south-asian.com



The double-arched windows found in many houses in Bhera, Pakistan
The Road to Bhera :
Bhera can best be reached by the Motorway M2 from Lahore to Islamabad / Rawalpindi. Going north, just before the river Jhelum is the midway Bhera Motorway stop and collection of CNG and Petrol stations restaurants and the Interchange sign at Bhera. Once on the Interchange road to Bhera, one comes to a fork in the road after 3 kilometers. The right one leads into Bhera via the Sher Shah Suri mosque [circa 1540] and into the ChakWala Gate from where the main Bazaar with its shops of Henna, Phenian [vermicelli], Tobacco, Brown Sugar- Gur starts. If one takes the left fork on the Interchange one comes in front of a small fruit and vegetable market, in front of the Laloowala [ Chinioti Gate ].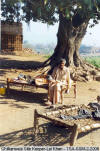 The other route to get to Bhera is via the old Grand Trunk [GT] road. Here on reaching Kharian near the town of Jhelum one turns left to the Chillianwala [15 kilometers] , Mong [ another 5 kilometers ] and Mandi Bahauddin [ another 10 kilometers] road. The Chillinawala monument to the dead British & East India Company soldiers is just alongside the road. There is a White Cross monument and the standard red sandstone stone monument with the names of the deceased in a small enclosure tended by an old man who looks after the vegetable gardens surrounding the monument. The old man gives us a small pamphlet with a small Battle ground sketch and a two page description of the famous second last battle that was to pave the way for British rule over the Punjab in January 12, 1949. The Defense section of the British High Commission in Islamabad has written the pamphlet.

Mong [ = Nicae meaning Victory in Greek] can be seen across the Lower Jhelum canal [which takes off from the near-by Rasul Barrage] on a small hilltop. The Hills of Rasul can be seen in the distant northwest. Here is where, as the story goes, Alexander defeated King Porus.
Just before Mandi Bahauddin, one takes the Sugar Mill road on the right . Malakwaal about 20 kilometers is on the railway line to Bhera and Khewra the great salt mines center is reached after crossing the Jhelum river at Malakwaal . Next is the village of Miani [home also to a few big Havelis / Mohallas] about another 10 kilometers and finally Bhera another 5 kilometers.
The Bhera railway station stands in a great yard with huge Peepal and Bohar trees. Its engine turning circular steel platform is now out of use. The Bhera Government High school is next on the road. On the right is an old solitary temple. While taking pictures of this temple, a white peacock [known as a vain bird ] walked out of the side hut and proceeded to do a fashion catwalk, whose results are presented here.