Page 1 of 6
HARAPPA
– ENIGMA OF THE INDUS CIVILISATION
by

Salman Minhas
First published June 2005
Copyright the-south-asian.com
Introduction : From Here to Modernity.


The railway station at Harappa was made from old Harappan bricks from the site
South Asia is home to a major number of key ancient civilization sites collectively called the Indus Valley Civilization, a term coined by Sir Mortimer Wheeler in the early 1920s . The term is somewhat limited because the Indus valley civilization steatite seals and evidence of trading links between the Mesopotamian-Sumerian cultures, the Gulf states [ Oman Bahrain,etc ] and the Indus valley extending up to Gujrat in the Ran of Kutch is now well established.
Only 5 % of these sites have been excavated. Of the well known sites, MohenjoDaro & Harappa are in Pakistan . Kalibangan lies east of Harappa in India along what was the Saraswati River – a 6th Punjab river that existed around 2000B.C. and whose flow was disrupted [ Saraswati named after the Indian goddess of learning] by earthquakes before which Saraswati river either joined the Sutlej & Ravi rivers near Bahawalpur or it drained into the Rann of Kutch. Landsat satellite imagery has confirmed the existence of the old Saraswati river bed. Lothal further south in Gujarat in the Indian Rann of Kutch was a major port city of those ancient days.
In 1970 Mehrgarh [dating from 8500 BC to 2500 BC] was excavated by the French archaeologists. Mehrgarh is located in Kachi plains close to the mouth of the Bolan Pass, next to the west bank of the Bolan River near Dhadhar village some 30 kilometers from Sibi in Balochistan.
The three sites from the Indus Valley civilization - Mehrgarh, Rehman Dheri, and Harappa-- together these 3 sites represent the entire sequence of the civilization as it developed from the 7th millennium BC neolithic village of Mehrgarh into the earliest planned town of Rehman Dheri and then into the great city of Harappa – the enigma and epitomy of the Indus civilization.
Six archaeological sites in Pakistan are on the UNESCO world heritage list, including Moenjodaro, the historic monuments in Thatta, the archaeological remains in Taxila, the Buddhist ruins of Takht-i-Bhai, the city remains at Sehri Bahlol, Rohtas Fort and the Lahore Fort/Shalamar Bagh. Except Rohtas, all these historical sites were put on the WHL in 1981. [See earlier article by Dr Coningham in senior lecturer in South Asian Archaeology, Bradford University, UK.
http://www.the-south-asian.com/Sept2001/South%20Asian%20World%20Cultural%20heritage1.htm]
<![if !vml]>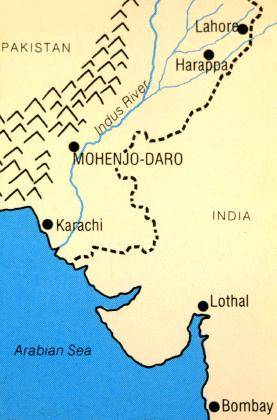 <![endif]>
Location of Indus valley civilization sites
at Lothal, Mohenjo-Daro & Harappa