Page 1 of 4
Kamil Khan Mumtaz
- The Grand Master
of
Traditional & Green Architecture in Pakistan
interviewed by

Salman Minhas in Lahore, exclusively for the-south-asian.


Copyright the-south-asian.com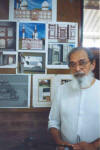 Kamil Khan Mumtaz: "I became acutely aware of the need to understand, and communicate with our ordinary people through visual sensitivity and sensibility."
Kamil Khan Mumtaz is a pioneer in the movement for conservation of architectural heritage in Pakistan. He has been a leading influence in raising standards of architectural design in Pakistan and has led the search for a contemporary, appropriate architecture responsive to climate, economy and materials, yet rooted in the indigenous culture of Pakistan.
Kamil Khan Mumtaz has authored two books - "Architecture in Pakistan" and "Modernity and Tradition". As an educationist, he re-established the 5-year course in architecture at National College of Arts, Lahore. He is a member of various architecture and planning committees, and the founder member of the Lahore Conservation Society.
Kamil Khan Mumtaz was awarded the Tamgha-i-Imtiaz in 1993 Ė Pakistanís highest civilian award.
Salman S Minhas (SSM) interviewed Kamil Khan Mumtaz (KKM) in Lahore on 28 September 2004, exclusively for the-south-asian.
SSM - Iíd like to start the interview with a quotation from one of your essays / writings; you have written something to the extent: "The flotsam of international style mingles aimlessly with the debris of grand tradition. Ö"; itís a great sentence and perhaps we can start with that. You could talk about your transition from being at the London School of Architectural Association, a famous institution; how you were influenced by "modernism"; modernism itself has undergone a metamorphosis towards "green" issues and "organic" styles. ; Also if possible, please talk about your association with Rory Fonseca and Kanvinde.
KKM- I went for my architectural education to the Architectural Association [AA in London] in 1957. This was of course the height of the modern movement and Europe was very much at the centre. The AA in architectural circles might be considered at the very cutting edge. So it is not surprising that one got fully into the modern attitudes, not just to architecture but to life itself and politics. So in brief, my training as an architect was steeped in the modern movement; but even at the AA, there was a tendency which I suppose you still find among students, to kind of come together with students from a similar background, so it was quite natural that most of the Asian students in my class became more friendly and closer to each other. A post-graduate course was offered in the Tropical Department, and Rory Fonseca was a teacher in the Tropical Department, with Dr. Otto Konigsburger, who in fact set up the Tropical Department. Being aware of the need to be effective in our own countries when we go back, I took up the tropical course. Naturally, given the times, and our backgrounds, much of our concerns were with developmental issues, national liberation, anti-imperialism, socialism, and so on. In 1963, after my studies, I started working in London. So far everything was nice and smooth, but towards the end of a year of working in London, I began to feel quite uneasy, essentially feeling like a cog in a well-oiled machine. Also, my true interest lay in issues related to Tropical Architecture, and development. Very soon an opportunity arose to go to Ghana, West Africa, where the faculty of Architecture needed teachers. I was one of the friends that jumped to that opportunity, and spent a very satisfying fruitful term of two years at Kumasi- the Kwame Nkrumah University of Science & Technology. Here, one really felt that every day was important, because one was contributing to a nation marching towards progress and modernism and Nkrumah was a big inspiration and ideologue and of course his vision was to modernize the country and we at the faculty of architecture were very much in the thick of things. In Kumasi, I had the good fortune of working with two individuals who had a strong impact on my thinking; one was Keith Critchlow, who used to teach at the AA. He is an artist who had developed a special interest in teaching design to designers. The other was Buckminster Fuller, the American inventor, whose ideas were absolutely stirring and inspiring.
After two years in Kumasi, I got a letter from my friend Ijazul Hasan asking me to come to Lahore to teach at the National College of Arts, where Shakir Ali was the Principal. Of course on the one hand, this was a very exciting and challenging opportunity, but then I was only 26 or 27 years old. The prospect of taking charge of the department, etc was pretty daunting. I must say I did get cold feet but eventually decided to accept the offer, because ultimately this was what one had planned to do- to get back to ones own country and contribute to its development. So, I came to Lahore National College of Arts as a professor and Head of the department, and as I said at the age of 27. Because I had left a well-paying job abroad, the board compensated me by giving me the top of the pay scale, as a professor, and head of the department. So there was nothing further for me to aspire to.
Anyway, right from the word go, one got into the issues of Pakistanís politics, development and of course one became very active in the anti-Ayub movement which brought me into contact with like minded Marxists. Being the idealists that we were, we became very active in various fields. I chose to work among the peasantry; others with the working class, some others with the students and so on.
This was a very enriching experience for me, particularly because it threw me into our rural society and politics - the social tensions, structures, contradictions, etc. I also had to learn Punjabi quickly. In the process I learnt a lot about our people, culture, whose roots were in our agrarian society; and as part of these activities, being an artist, I contributed a lot to wherever artistic inputs were required; for instance producing posters, working on a magazine for peasants, illustrations, that sort of thing. In the process I also became acutely aware of the need to understand, and communicate with our ordinary people through visual sensitivity and sensibility. Having trained in the west, my own aesthetic sensibility, ways of perceiving and looking were very, very different from the audience that I had chosen to address. And so I was constantly trying to learn what I had not grasped, understood, and was not in control of. I did realize that there was something I was missing and something very similar was happening in my work as an architect.
As I said earlier, I was trained in the movement of modernism - not at the superficial level but at its philosophical depth. I was very clear that the modern movement was not about a particular form, or material. It was a logical, rational attitude to problem solving and so I was very clear, what we needed to evolve was an architectural vocabulary that would be modern in its spirit, but also reflect the regional realities of climate, economy, culture, and so on. I was trying to be neither imitative of the west nor copying our traditional forms. And so it was a bit of a shock when some students who had been asked to write an essay on various architects, chose my work and asked me whether I worked in the traditional or modern style? This is precisely what one was working against. I said, "Why donít you look at the work and then tell me." They came back and said, "Yes, now we understand you work in the modern style." This really threw me, because clearly there was something that I had missed Ė something that the man on the street could immediately recognize, as being western, modern, and not belonging to this region.
The turning point of my work came in 1980. Until then, I had not done a large body of work at all, mostly private residences. The event that changed a great deal for me was a letter from the Aga Khan [1980], asking me to be a member of the Aga Khan Steering committee. This brought to me the realization that I knew absolutely nothing about our own architecture, artistic tradition and heritage, design principles, and theory! I decided to educate myself.
I have written about this several times. Fortunately I was given "Sense of Unity" [book] by Nadir Ardalan, who was organizing the Aga Khan awards in Lahore. At the time I did not bother to look at the book, but now it is about the only source I access. Reading "Sense of Unity" was like turning on a light; Nader and his wife Laleh Bakhtiar wrote this book. The book showed me precisely what it was that I had not understood about our sensibilities and cultural roots. I then read Laleh Bakhtiarís book "Sufi", which continues the same arguments - that the difference was fundamental and basic and proposed a radically different basis for design, a different approach to architecture from what we had been trained. I could see the logic and truth of what they were saying; and that started me off on this wonderful journey of rediscovering my own roots and moving increasingly away from modernism and towards being a traditionalist.