Page 1 of 4
Sufi Poet-Saints
by

Salman Minhas
First published May 2001
Copyright the-south-asian.com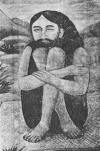 Sachal Sarmast & Shah Abdul Latif - Sufi Poets
Look at the weavers,
delicate is their love,
they join every day,
and learn not to part.- Shah Latif
Sufis were great intellectuals - men of letters and poets of
eminence. Adept in medicine and steeped in spiritualism, they looked upon
'social service' as the supreme goal of all their spiritual exercises; advocated the path of peace and asked people to avoid
rift and bloodshed. Shaikh Fariduddin Ganj Shakar of Pakpattan advised
his disciples to placate one's enemies. He once told a vistor: "Do not
give me a knife; give me a needle. The knife is an instrument for
cutting asunder and the needle for sewing together." - Kemal Hasan
Ho Lal meri pat rakhio Sada Jhulay Lalan,
Sindhri Das , sehwan das ,
Shahbaz Qalandar ……..
……………………..........
charon chirag tere balaan hameshan ,
panjwan mey balaan
Oh Jhulay Lal and
Sire of Sehwan Lal Shahbaz Qalandar,
protect me forever ,

your shrine is always lighted with four lamps,
and the fifth one is lighted by me
These few opening lines of a popular south Asian song [ sung by Runa Laila and Reshma ] celebrates the memory of the Sufis of Sindh and has turned the names of these holy saints into household names in India and Pakistan. Lal [red] Shahbaz [ king falcon] Qalandar and Jhulay Lal were two of the holy figures who have been remembered to this day in popular songs .


Shahbaz Qalandar's shrine in Sehwan
Lal Shahbaz Qalandar was born Pir Usman Shah in Marwand now Afghanistan in the twelfth century and is also known as Shaikh Usman Marvandi [1177- 1274 AD] . His annual Urs [birthday] celebrations are held on the 18 Shahban - the eighth month of the Islamic lunar calendar. He migrated to Sindh and settled in Sehwan and was buried there . Sehwan is located on the right bank of the Indus about 180 miles north of Karachi. Sehwan is famous for its ancient Shiva temple and the remains of Kafir-Qila, a fort reportedly made by Alexander. About 16 km. from Sehwan is a very large fresh water lake called Manchar [ about a 100 sq. miles and is used by migrating fowl in the winter].
It is believed that Lal Shabaz Qalandar was so named because of the red robe he wore all his life , and that he turned into a falcon to pick up his friend Sheikh Farid Shakar Ganj from the gallows of fanatics . The Hindus are supposed to revere him as the incarnation of Bhartihari, the saintly brother of Vikramaditya, who apparently worshipped Shiva at the spot where Lal Shahbaz's shrine stands today in Sehwan, on the banks of the Indus.
Jhoolay Lal's [also called Udero Lal, Amar Lal or Lal Sain] origins are also shrouded in myth. It is believed that he was born to Rattan Rao Luhana and his wife Devaki in Nasarpur . In paintings he is shown as a boy in a silver swing [ hence the name "jhulay" ] cradle. As a youth leader he is supposed to have saved a large number of people [from genocide] who were being persecuted by Mirkh Shah at a time when the Arabs were on the decline and the Soomros were on the rise in Sindh - around the time of Alauddin Khilji, king of Delhi.
Jhoolay lal is depicted in pictures as a man with a white beard and seated on the fruit of the Indus river, that is, the famous Indus fish called "palla".
These two Sufi saints, whose names are still remembered in popular songs today, were part of the large group of peaceful scholar missionaries who migrated from Central Asia and the Arab empire of Baghdad and Damascus when the Mongol armies of Genghis Kahn sacked the cities there around 1000 -1200. Khushwant Singh writing in his book " A History of Sikhs" remarks that " ...Neither the succession of victories by Muslim armies nor the massacre of Hindus and the destruction of their temples brought many Hindus to the fold of Islam. On the contrary , as would be natural in the circumstances, conquest only built up Hindu resistance. The battles of Islam were won not by Muslim iconoclasts but by peaceful missionaries ."
The great pioneers of this 13th century Sufi movement were four friends known as "Chaar Yaar". Baba Farid Shakar Ganj of Pakpattan [1174-1266]; Jalaluddin Bukhari of Uch- Bahawalpur [1196-1294]; Bahauddin Zakaria of Multan [1170-1267] and Lal Shahbaz Qalandar of Sehwan [1177-1274 ] . It is said that 17 leading tribes of Punjab accepted Islam at the hands of Baba Farid . Some of these tribes were Kharals, Dhudhyan, Tobian and also Wattoo, a Rajput tribe. Jalaluddin Bukhari converted the Soomros and Sammas of Sindh while Shahbaz Qalandar had a great following in Multan and Northern Sindh. For an excellent article on the work of these Sufis see the article on the web http://paknews.org/articles/dec98/art2dec-22.html] by Kemal Hasan.