Touchdown India!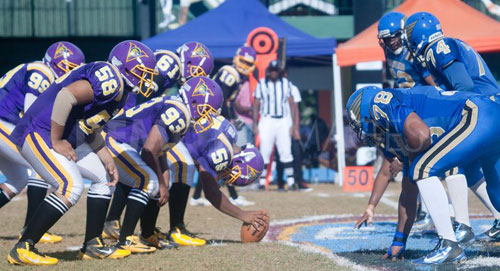 Kolkata Vipers vs Delhi Defenders
India will soon have its own version of 'Super Bowl' – The first season of the Elite Football League of India - the country's first professional American football league - kicked off on September 22, 2012 with an opening game between Bangalore and Peshawar played in Colombo, Sri Lanka!
Last year saw the launch of F1 in India, this year it is NFL-India, and March 2013 will be the year of World Superbike Championship's debut in Delhi. India is fast emerging as a regular entry in the calendar of international sports.
Elite Football League of India - backed by NFL legends Michael Irvin, who won three Super Bowls with the Dallas Cowboys; Ron Jaworski, a former Miami Dolphins and Philadelphia Eagles quarter-back; and Mike Ditka, who coached the Chicago Bears to victory in Super Bowl XX in 1986 – has ambitious plans to introduce American Football to India in a big way. It aims to " tap into a sizeable television audience in the world's second most populous nation." Ten Sports has signed a five-year contract with the League, and will broadcast approximately 370 games during the 5-year period.
The Chicago-based investment banking firm, Madison Street Capital, is now the official financial advisory partner of the Elite Football League of India (EFLI).
Three nations will have to learn the rules of the game – there is no tradition or history of American Football in the Indian sub-continent. The eight-team league, made up of players from India, Pakistan and Sri Lanka who have been trained by American coaches, is India's first attempt at organized professional American football. Each team is made up of 40 athletes (though only 11 to a side are on the field at any given time) who are paid a monthly salary.
The two teams from Sri Lanka are the Kandy Skykings and the Colombo Lions; the one representing Pakistan is the Pakistan Wolfpack; while the Indian teams are: the Kolkata Vipers , Mumbai Gladiators, Bangalore Warhawks , Pune Marathas, and Delhi Defenders.
So far, the favourites are the Bangalore Warhawks, with Roshan Lobo as their star player.
Read the entire article in the print edition of The South Asian Life & Times
subscribe@the-south-asian.com