Western Ghats – A Magical Refuge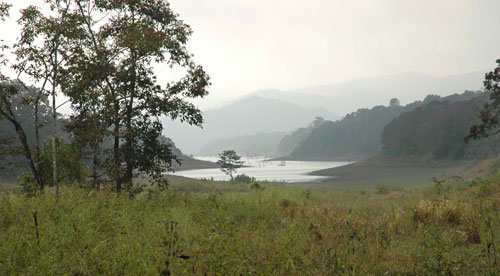 View of the Periyar National Park
At a meeting in the Russian city of St Petersburg on July 1, 2012, the Western Ghats of India, a 1,600km long mountain chain along its western coast, was inscribed as a UNESCO World Heritage Site (WHS). Thirty-nine sites within seven bio-diversity zones of this north-south running mountain chain, will be part of the newly designated WHS – all are either National Parks or Reserved Forests and Sanctuaries. Unlike the Himalayan National Parks, which remain uninhabited because of their rugged inaccessibility, those in the Western Ghats are inhabited, though scantily.
Older than the Himalaya mountains ,the Western Ghats are believed to have been formed during the break-up of the super continent Gondwana some 150 million years ago. The mountain chain is the faulted western edge of the Deccan Plateau, and runs parallel to the Arabian Sea coastline.
Though Western Ghats comprise about 7% of India's land area, only 15% of this forested range is protected. Endowed with unique forest ecosystems, its tropical evergreen rainforests, rivers and grasslands contain a high level of plant and animal diversity, including rare and endemic species, and at least 325 globally threatened flora, fauna, bird, amphibian, reptile and fish species. It is, not surprisingly, one of the world's eight 'hottest hotspots' of biological diversity. Habitat transformation, over-exploitation, pollution, urbanisation and climate change have accelerated the recent bio-diversity loss.
The exotic fauna of the Western Ghats includes the endangered Lion-tailed Macaque, Elephant, Gaur, Tiger, Jungle Cat, Leopard Cat, Wild Dog, Sloth Bear, Wild Pig, Sambar, Spotted Deer, Nilgiri Langur, Slender Loris, Bonnet Macaque, Common Langur, Barking Deer, Mouse Deer, Malabar Giant Squirrel, Giant Flying Squirrel, Nilgiri Marten, Common Otter, Brown Mongoose, Civets, Porcupine, Pangolin, Python, Cobra, King Cobra, Emerald Dove, Black Bulbul and Malabar Trogon and many more.
The newly acquired WHS status has brought immense relief and joy to environmentalists but the same may not be true for states that have had either a guarded reaction or have openly protested against the international visibility. The mountain chains run through the western parts of the states of Maharashtra, Goa, Karnataka, Kerala, and Tamil Nadu. Faced with enormous population pressure and the resulting infrastructure development, the lush mountains are at risk of a biodiversity crisis. We need national parks and sanctuaries, but also biological corridors connecting these protected areas to save the rich genetic diversity and its habitat – primarily from 'poachers and developers.' Peter Lawton's recent study into Western Ghats looked at many such biological corridors and concluded that, "if the international and Indian community quickly bought up contiguous land to protect national parks from developers, we could save the last remaining tigers in India from extinction. With that plus stricter anti-poaching measures, it can be done." Lawton's organisation has helped and supported, since 1987, the "courageous forest guards (who often end their days maimed by poachers or being killed on duty), provided anti-poaching mobility, and supported stoical scientists and conservationists who are active around many national parks (in India)."
UNESCO's inscription could not have been timelier.
Read the entire article in the print edition of The South Asian Life & Times
subscribe@the-south-asian.com