Book Review
Two Karachi-based women have brought out two individual accounts of the same event in history that they lived through – the break-up of Pakistan and the creation of Bangladesh. While Raihana Hasan's
'Sips from a Broken Teacup' is a highly engaging personal account of life on a tea estate and the events that led them to flee Bangladesh, Aquila Ismail's 'Of Martyrs & Marigolds' is a novel based on actual events that led to the break-up of Pakistan – and its aftermath in Bangladesh. The narrator is Suri – a young college student – the book is through her eyes. Both are exceptional reading.
Of Martyrs & Marigolds
By Aquila Ismail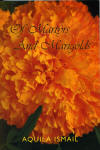 'Of Martyrs & Marigolds' is Aquila Ismail's eloquent debut novel. It touched the soul – extremely painfully at times. It took one back to those dreadful headlines forty years ago.
The novel is a fearless and an unbiased narrative of the birth of Bangladesh seen through the eyes of Suri –a young college student at the time. It is a story of dilemmas faced by the 'Urdu-speaking' Bihari- citizens of East Pakistan, who loved the country they had opted to live in. It is a tale of atrocities committed by both sides – Pakistani army and the Bengalis - towards their own. Not many writers have documented this painful period of Bangladesh's recent history – and Aquila has recreated with nostalgic charm the growing up of Suri in a middle class 'Urdu-speaking' family living in Bangladesh – a country they moved to by choice.
As the novel unfolds, its characters and imagery become vivid – and the story more agonizing. Based on actual incidents, some that haunt you for long after the page has turned, the novel is gripping and at times horrific. There were many a time I had to put the book down and pick it up again after a few days.
The happiest moments in the novel are those of Suri's school and college years in Dhaka. Suri grew up in a comfortable middle-class home and her narrative begins with a child's worldview – innocent, and non-judgmental - of life amidst the exotic tropical flora and fauna, the colours of childhood, the snug daily life with friends and family. Later as a college student – Bob Dylan's poetry, Bollywood fashions, parties – it was a regular life of a teenager.
The army crackdown and the violent Bengali backlash against the 'Urdu-speaking' populace change the course and the mood of the novel. The Civil War that followed, unleashed upon the millions of people – the very real fear of betrayal and threat, rape and murder, and torture and massacres and turned it into the ugliest and most shaming period in the recent history of South Asia. What emerged was beyond barbarism. It was a repeat of 1947 – but Manto was not amongst us to chronicle the pain and suffering in his lucid short stories. And once again we failed to learn from history.
Aquila Ismail is indeed a 'real interpreter.'