Upper Mustang – Untouched by Time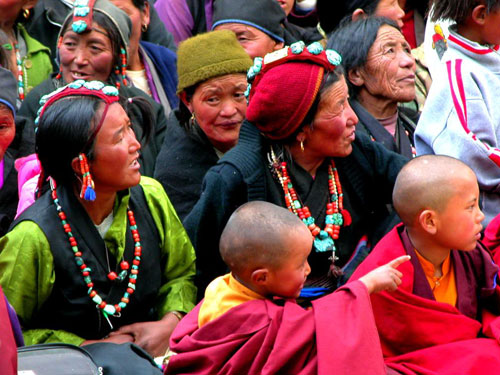 Women & children at the annual Tiji festival in Lo Manthang.
Photo courtesy: Michaela Borghese
Upper Mustang (in Nepal) is 2000 sq km of existential bliss – for some. No roads, no telephones, no televisions. Ancient and priceless paintings in crumbling monasteries in isolated villages. Hundreds of caves. It is one of the few places where traditional Tibetan culture has been able to survive undiluted and 'unmolested'. Untouched by time and modern Chinese colonisation, and ruled, until recently, by a king, Upper Mustang is "a living museum of the unique Tibetan culture and way of life." Politically, it is part of Nepal, and hence escaped the cultural annihilation faced by mainland Tibet at the hands of the Chinese. It is one of the few places in the world where fraternal polyandry is still practiced – a woman may marry a set of brothers at the same time.
The former Himalayan kingdom of Lo – now known as Upper Mustang – is a remote area in the upper reaches of Himalaya in Nepal, largely inaccessible, and insulated from the modern world. Getting there is not a joke. A 20-minute nerve-wrecking plane ride from Pokhara to Jomsom through a frighteningly close high mountain terrain, aboard a claustrophobia-inducing Dornier is the first leg of an arduous journey. Thereafter, it is several days of trekking along the Kali Gandaki river up to the Tibetan plateau. The Kali Gandaki River, which sweeps through one of the deepest gorges in the world, "demarcates a 2,000-year-old trade route between Tibet and India that is still in use today."
Clara Marullo in his book The Last Forbidden Kingdom Mustang - Land Of Tibetan Buddhism, wrote: "Although politically part of Nepal, Upper Mustang is linked by religion, culture, and history to Tibet – and now stands alone as one of the last truly pure Tibetan cultures existing today. With its untouched temples, colourful festivals and red-robed lamas, the kingdom preserves not only the daily vernacular of Buddhist ethics, but a unique heritage of Tibetan religious art. ... In 1992 restrictions were eased, and the long-forbidden kingdom was cautiously unlocked. "
The windswept, treeless mountain region of Upper Mustang is the northern two-thirds of Mustang District - (one of Nepal's 75 districts) - on the border between Nepal and Tibet. It covers an area of 2,563 square km in the upper valley of the Kali Gandaki River, to the north of the Himalayan massif, and is home to over 6,000 people - the Lo or Lobas, close cousins to the Tibetans. It is also home to the Dhokpas – pastoral nomads – who move from pasture to pasture together with their animals and tents made of yak wool.
Read the entire article in the print edition of The South Asian Life & Times
subscribe@the-south-asian.com