Organic farming - India's Real Green Revolution
All about
<![if !supportLists]> - <![endif]>responsible stewardship of the land
<![if !supportLists]> - <![endif]>preservation of rural life
<![if !supportLists]> - <![endif]>good food grown without chemicals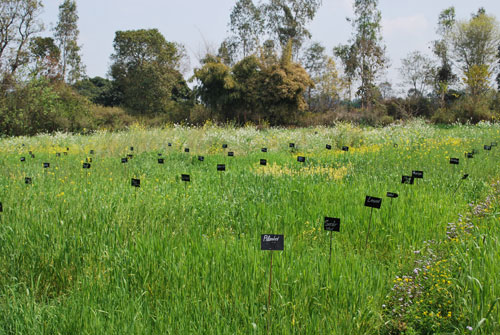 Organic foods, once considered the realm of the left-leaning food elite, have at last made inroads into the public domain globally. Sales across Europe and the United States are robust (organic food sales in the United States have grown by 17 to 20 percent a year for the past few years, while sales of conventional food have grown more slowly, at about 2 to 3 percent a year), and growing rapidly elsewhere. Recently, Etihad Airways introduced organic inflight dining for its First Class menus, sourcing fresh organic produce daily from the Abu Dhabi Organics Farms, the first internationally certified organic farming initiative in the UAE.
In India, organic foods are now available in select outlets in metro cities, primarily because of greater demand – a result of better awareness of their potential health benefits, and better organization. But the journey to the table has not been easy – especially so in India.
The agricultural system in India has been in a mess for a while. Drought, floods, famine and pestilence have been part of India's farming story. But cancer deaths and farmer suicides are recent.
The 'Green Revolution' of the 60s and 70s brought unprecedented harvests but left us wondering if the cancer trail resulting in its wake is indeed linked to the heavy use of chemicals in the fertilisers and the pesticides that it promoted. Soon after came the tsunami of genetically modified (GM) crops, and riding its crest were the unethical Big Agro-companies that produced GM seeds and were known for their ruthless and intimidating tactics against small farmers. In India, this wave brought a harvest of fear and debt and left thousands of farmer suicides in its wake.
Organic farming is perhaps the answer not just to get the farmers out of the mess of spiralling debt from insanely priced inputs to grow genetically modified crops but it is the only way to sustainable farming and healthy, nutritious food.
Never before has the relevance of organic practices as a solution to many of the challenges faced by the farmers in India been more apparent than now. Organic agricultural practices, which were once the traditional practices, have improved the condition of India's farmers by providing greater profit and sustainability. Their incomes and yields have risen. "Not only are the incomes of organic farmers soaring – by 30% to 200%, according to organic experts – but their yields are rising as the pesticide-poisoned land is repaired through natural farming methods."
Read the entire article in the print edition of The South Asian Life & Times
subscribe@the-south-asian.com