'SaMaPa Alaap Festival 2012
– the premier music festival of J&K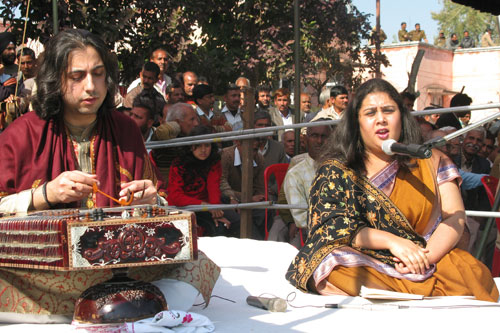 Abhay Sopori with Ragini Rainu at Khoud border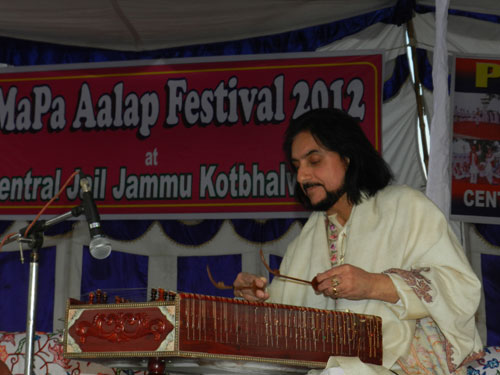 Pandit Bhajan Sopori performing at the Central Jail, Jammu
SaMaPa (Sopori Academy of Music And Performing Arts) held its Annual 'SaMaPa Alaap Festival'- the premier classical, Sufi and folk music festival of Jammu & Kashmir State (now in its 7th year) - from January 28 to February 13, 2012. The festival was attended by more than 35,000 students and music lovers. When it first began in the year 2006, the festival was held over the course of one week, but over the years it has grown into the biggest and most impressive youth-oriented music festival not only of the state of Jammu &Kashmir but also of the country. It is the brainchild of Abhay Rustum Sopori – the talented santoor player and composer, and son of santoor maestro Pandit Bhajan Sopori.
This year, as part of the 17-day Festival, 30 concerts were held at 20 different venues, which included some of the border areas such as Khour, R.S. Pora, Rajouri, and Poonch. A special concert was organized for the first time ever at the Central Jail, Jammu. The festival aims to create cultural awareness among the youth, and under the aegis of its Chairman, the great santoor legend & composer, Padmashri Pandit Bhajan Sopori, it has been recognized as a global music event and acclaimed as a 'Cultural bridge' between Jammu & Kashmir and the rest of the country.
This year the festival featured concerts by Pandit Bhajan Sopori, Abhay Rustum Sopori (Santoor), Pt. Kartick Kumar, Mohsin Ali Khan, Mehtab Ali (Sitar), Asghar Hussain (Violin), Ragini Rainu (Sufi), Vidushi Sumitra Guha, Nitin Sharma (Vocal) amongst others. There were also special interactive sessions by various eminent musicologists and music critics of the country like Pt. Vijay Shankar Mishra, and Pt. Ravindra Misra. The festival also included presentations by various folk musicians of J&K.
Read the entire article in the print edition of The South Asian Life & Times
subscribe@the-south-asian.com