Alim-ud-din: A Straight Bat
By Dr Khadim Hussain Baloch, Mohammed Salim Parvez|
&
Najum Latif
Publisher: Jumhoori Publications, Lahore
Price: GBP 14.95
<![if !supportLineBreakNewLine]><![endif]>
<![if !supportLineBreakNewLine]>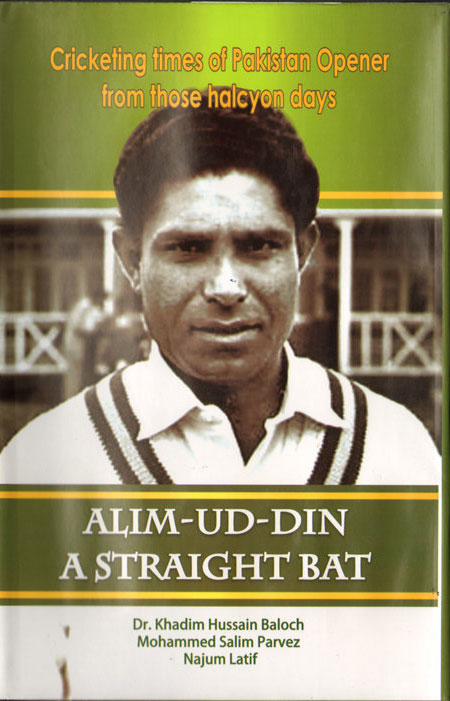 <![endif]>
Alim-ud-din A Straight Bat is written by a trio who have a real passion for the greatest of all games, and also for the written word. A joy to read! Alim was a fascinating figure in many ways and his story makes an interesting sporting biography.
Alim was born in December 1930 in Ajmer, Rajasthan. His father was an electrical engineer, and Alim honed his early cricketing skills on the grounds of Mayo College, though he did not study in this exclusive school. Alim-ud-din's break came when he was selected to play for Rajputana against Delhi in the Ranji Trophy in November 1942. He was only 12 at the time! "His appearance in the semi-finals of the Ranji Trophy at Baroda in February 1943, was nothing short of being remarkable especially when one considered the quality of the players in the field - Vijay Hazare, Cottari Nayudu, Hemu Adhikari, Mutyalswami Naidu, Wyankatrao Ghorpade, Raosaheb Nimbalkar and Vivek Hazare! Though Rajputana was annihilated by Baroda, Alim scored the highest number of runs - 13 in the first innings and 27 in the second -before being stumped." He became the youngest player ever to play first class cricket and created a world record. Cricket eventually led Alim to Bombay, where his elder brother lived. It was in Bombay that he met a person who was to have considerable influence on his life. "No sooner had I arrived in Bombay than I decided to go to the Sunder Cricket Club to play in the nets. It was here that I met Zulfiqar Ali Bhutto, who was a member of the club and lived somewhere in Worli." (Former England captain, Douglas Robert Jardine was also born here).
The family moved to Karachi, Pakistan in early 1948.
A right-hand opening bat, Alim-ud-din, was among the first generation of Pakistan cricketers. As an opening batsman, he successfully held off both pace and spin, at home and away on matting and turf.
After arriving in Karachi, Pakistan's capital city at the time, Alim had the distinction of facing the opening delivery against the first touring team in 1948 – John Goddard's West Indies side – for Sindh at Karachi Gymkhana. He was also the opening batsman on his country's first overseas tour to Ceylon in 1948-49.
Alim-ud-din played 25 Test matches for Pakistan, and 140 First Class matches in his cricketing career.
Dr Baloch writes about the impact 'Vinoo' Mankad, skipper A.H. Kardar, and Zulfiqar Ali Bhutto, had on Alim's life, both on and off the cricket field. In a conversation with Dr Baloch, while sitting in the Press Box at Lord's, Alim spoke with great respect about Vinoo Mankad, his mentor and coach. "He was the toughest and most single-minded of all my coaches. In the final analysis, it was not India that reaped the benefits of what Mankad taught me but Pakistan."
Short and stocky with dark complexion and curly hair, Alim, or 'Munaee' to his family, was one of the best-dressed cricketers of the time, a man of high taste, who would often drop in at Harrods for tea, when in London. Asif Iqbal reaffirms this in his foreword: "My first meeting with Alim Bhai, as we all knew him, was in India. I was a teenaged seamer opening the bowling for South Zone against the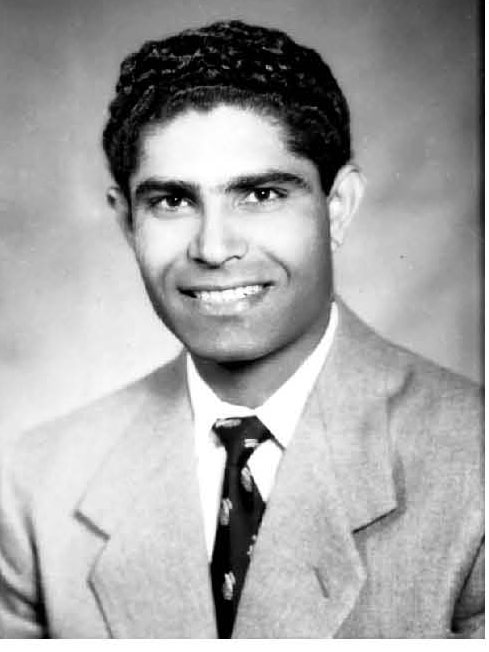 Alim-ud-Din (1930-2012)
Amiable, unassuming, modest
Pakistan team which was touring India under the captaincy of Fazal Mahmood. I still remember that my first impression about him was that he must have been one of the most well-dressed cricketers I had ever encountered and that impression remained even as my cricketing experience grew and became much wider than it was in those early years of my cricketing life." Asif adds, "When I migrated from India to Pakistan a couple of years later, I was happy to find that Alim Bhai was the first captain I played under in Pakistan when I was selected to play for one of the Karachi teams. In those days the Karachi Cricket Association used to field at least two and sometimes even three teams in the Quaid-e-Azam Trophy, designated as Whites, Greens and Blues. He was always full of encouragement and helpful advice for youngsters and I found the advice he gave us of great use, some of which served me well all my life, both on and off the field."
"After his cricketing career was over, Alim Bhai migrated to the UK and served for many years with Pakistan International Airlines at Heathrow airport. For Pakistani cricketers, old and young, Alim Bhai would be first port of call while travelling to and from London. Indeed, he was a pillar of the Pakistani cricketing fraternity in the UK and a pillar of strength for his family for whom he made innumerable sacrifices."
Alim-ud-din: A Straight Bat transports one to a world of nostalgia, of old-world values and an age of innocence. Najum Latif, a Punjab University player, Research Scholar, cricket historian and founding curator of Pakistan's first Cricket Museum in the pavilion of Bagh-i-Jinnah, Lahore, recalls the excitement that surrounded The Lahore Test against India in January, 1955. "Eastern Optical, a shop in the Dinga Singh Building on the Mall, offered Binoculars for Rs.5/- to watch the test match. Sutlej Cotton Mill Okara owned by the Dalmias announced prize money of Rs.500/- for a Pakistan player who would make a ton. Lahore Cloth merchants M/s Ramzan Bhai and Bashir Bhai offered Rs.200/- to any Pakistani player who scored a century."
More importantly, Najum Latif has recreated the excitement of key matches and series with India, Australia, West Indies, and England played at home or away – until the 60s. Great names come alive and adrenalin recirculates.
Alim-ud-din passed on in England in July, 2012, aged 81years. His death leaves Pakistan with only four survivors - Hanif Mohammad, Imtiaz Ahmed, Waqar Hasan & Wazir Mohammad - of the famous Oval win against England in August 1954.
For the first time a biography of this calibre has been written in English on a Pakistani cricketer, by Pakistani writers.
An immensely enjoyable book, Alim-ud-din: A Straight Bat takes one through the early decades of post-partition cricket in Pakistan.