Q & A with Feroze Dada
Author of
'Children of the Revolution'
<![if !supportLineBreakNewLine]>
<![endif]>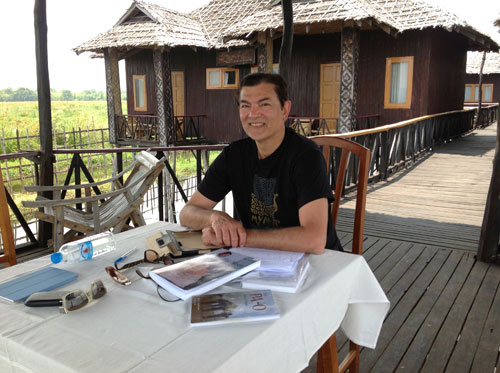 "Like most journeys, I found myself setting off for one destination only to arrive at another. I thought I was writing one story only to discover that there were deeper layers that I hadn't uncovered yet. I thought I was writing about one man, only to meet another."

- Feroze Dada

Feroze Dada is a qualified chartered accountant and chartered tax advisor. He is currently chairman of Crowe Clarke Whitehill office in Mayfair, London. He is also a non-executive director of several private companies. Outside his professional life, Feroze is passionate about cricket and music. He currently performs in his own band, the Tax Pistols. 'Children of Revolution' is his first book. It is at once a travelogue and a sensitive and compelling tale of people of Myanmar and the challenges in their daily lives.

Feroze Dada was born in Karachi. He has lived and worked for most of his life in London.

I understand that your book and the charitable work being carried out at this monastery also have the written endorsement of His Holiness The Dalai Lama?
<![if !supportLineBreakNewLine]>
<![endif]> I am grateful to His Holiness The Dalai Lama for giving his endorsement to the Book and his prayers for the success of the work at the monastery. This places a huge responsibility upon me (and The Inle Trust Charity) to uphold and fulfill. I will make every endeavor to adhere to the highest standards and make sure that this accolade is utilised in the best possible way to do good.

Each chapter in your book starts with a quote by Buddha - please elaborate on your experience with Buddhism.
I would like to refer to what I said in the book when I first went to stay at this remote monastery to teach the children.

" I was very impressed by the way the monastery was run and how efficient, motivated and relaxed everyone appeared to be and dare I say it, how happy…………….. I felt I needed to understand the man (referring to Phongyi-the Monk) before I could understand his teachings"

So most evenings and going late in the night I spent time in dialogue with the Monk in discovering how he taught these children to become such fine human beings. The more I talked to the Monk the more apparent it became that there were deeper layers. To understand the Monk I had to now understand his teacher ………Buddha.

And so to answer your question: I was fortunate not just to read about Buddhism but I saw it in action in the way these children were taught and what they became – and in this way my own journey of discovery was complete.

Did you undergo a spiritual change?

As the great Spanish philosopher, Maimonides once said "You must accept the truth from whatever source it comes." When you are touched by the truth unfolding in front of you, surely there will be a spiritual change.

Did this experience change you as a person?

Difficult for me to judge myself. But on a lighter note MuMu (my wife) often says when I get out of line "Did the Monk not teach you anything!"

Is Buddhism confined to the villages and remote areas of Myanmar?

Much of my time in Burma has been spent in the remote areas at Inle Lake and mainly on work at or for the monastery where I feel Buddhism is apparent in everyday life. Even in Yangon (working on this project) people are mostly charitable and kind hearted and always helpful. In fact I was reading a report recently by The Charities Aid Foundation in London which ranked Burma as the most Charitable nation.

Are the ground realities changing rapidly in the new democratic environment?

There is no doubt that moral values are being tested in Burma's surge towards democracy and capitalism.

What have you learnt from your experience with the children in the monastery? Have some of the kids travelled to London or elsewhere?

When after a week or so of teaching the children about computers the course ended; and I quote from my book:

Phongyi thanked us before asking me to address the students. I wasn't prepared for that…………..I said what I instinctively felt: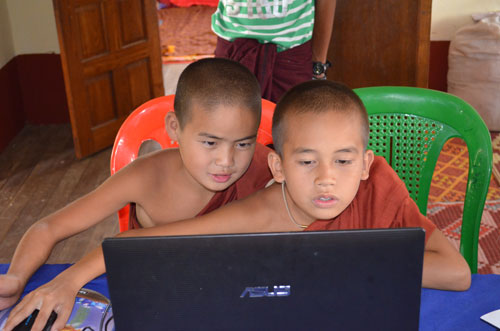 Ko Yin sharing computer
A human being learns all the time and that the old do not always teach the young. The students had learnt some computer skills from us. But we had learnt a lot more from them. We had seen them behave with humility, kindness, generosity and with the utmost dignity at all times. We should aspire to live by their example.
The monastery is still very remote and it is only very recent that because of the good schooling by the Monks the children are able to get jobs in the nearby towns. London is still a bridge too far.
Are you thinking of other projects for the monastery?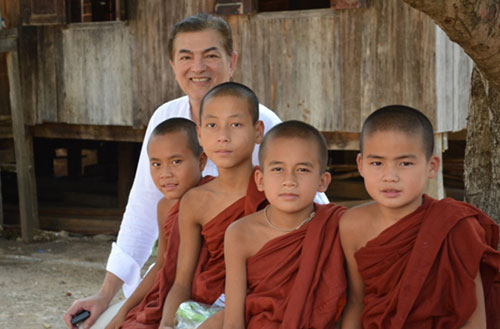 Feroze Dad with children at the monastery

Yes. There are currently about 1000 orphaned, abandoned or very poor children boarding at the monastery and all the facilities are overstretched, to say the least. There is no medical facility at the monastery or nearby. So we are looking at building a medical centre so that some emergency care is available at hand for the children. There is also a need for better toilet facilities –currently the children often use the lake or forest for this purpose.

I think in many ways my work at the monastery has just begun.

How is the bottled water project faring?

I left the Monastery on 20th August –a momentous day-the day the water started flowing from the Ko Yin Mineral Water Factory. I heard only yesterday that there are queues of people lining up to buy the water bottles- why shouldn't they: It is the very best quality purified mineral water from a mountain spring and blessed by the Monks! And the label on the bottle says:

One bottle feeds one child one meal. One day it will become a world best-seller.

Attitude of people in London when you first started getting involved with the project.

Once they realised that I was not going through a "three quarter life crises" I was overwhelmed by support.

Anything else you'd like to share with the readers.

I would like to share my life lesson:

When worldly knowledge is harnessed with good intent for moral ends, it can bring maximum benefit and incredible happiness- try it and see!

Donations to the monastery can be made online via: www.inletrust.org.uk