Coronation Everest
By Jan Morris
Paperback: 176 pages
Publisher: Faber and Faber; New edition (7 April 2003)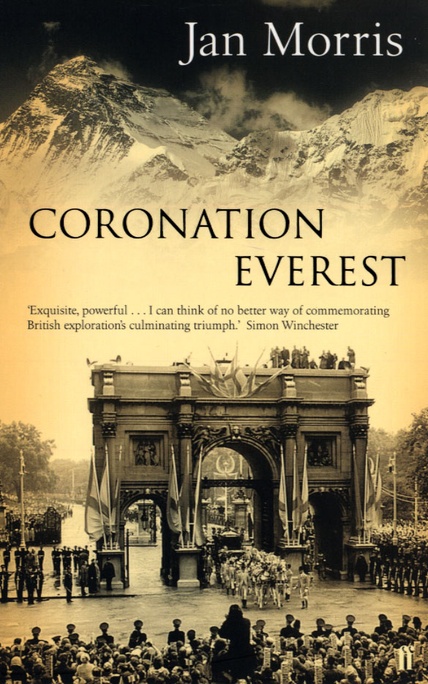 Written at a time when the world was obsessed with mountains, Coronation Everest is not just an account of the first successful conquest of Everest, it is journalism at its best. Morris's brilliant and chiselled prose, elegant style and a magical command of the English language make it a very engaging read, despite the fact that it is a 60-year-old story now.
James Morris (Jan Morris now) was The Times correspondent who accompanied the 1953 Everest expedition up the Khumbu Icefall and Western Cwm to a camp at 21,000 feet. He was running an exclusive coverage of the ascent – live for the time!
Apart from the story of the historic expedition, the book is also a travelogue – Morris writes an enthralling description of life in Kathmandu in the 1950s; the Sherpas, and the logistics of being a correspondent on such an expedition.
While Hillary and Tenzing made their way up to the higher camps and then the summit, Morris camped at 21,000 feet – truly a feat for someone who had climbed no higher than the Welsh hills. He was one of the first to meet Hillary and Tenzing as they descended from the summit, and reached Camp IV (there were nine camps set up in 1953 – unlike the four camps of today) on 30 May, 1953. They had summited the previous day and rested at a higher camp. Morris, in a rush to get the news across to London, went down some 4,000 feet to Base Camp in a single afternoon. He quickly encoded the great news, passed it to runners, who handed it over to another person to have it wired to London from Namche Bazar. The news reached London on the morning of 2 June 1953 – the day of the young Queen's coronation. And the day turned into a double celebration.
James Morris the journalist of Everest fame is Jan Morris today. In the interest of clarity and to avoid confusion, it should be noted that James Morris, underwent a gender change subsequent to the original 1958 publication of this book. When the book was released again in 2003, it was under the name which the author had since adopted, Jan Morris.
Read the entire article in the print edition of The South Asian Life & Times
subscribe@the-south-asian.com