Tara Gandhi Bhattacharjee
– 'A Woman of the Times'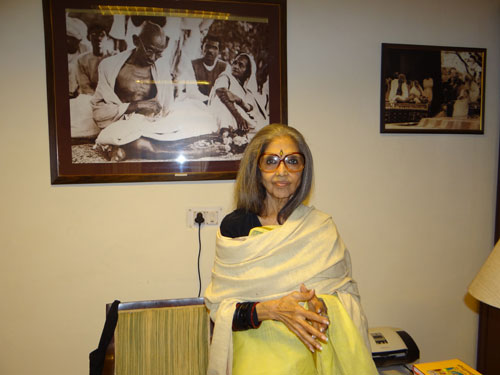 Tara Bhattacharjee nee Gandhi grew up in a tumultuous and exciting period of Indian history, amongst a family of freedom fighters, leaders, and writers. Her father Devadas Gandhi was the Editor of Hindustan Times, a leading national daily; her paternal grandfather was none other than Mahatma Gandhi, and maternal grandfather the illustrious C. Rajagopalachari – known fondly as Rajaji. Deeply influenced by such luminaries around her, Tara Gandhi's childhood was by no means ordinary – it was privileged. The times were exhilarating too – the years that led to the political independence of India were spirited, rebellious, and intellectually charged – elements of which are also visible in Tara Gandhi's soul and spirit.
Tara Gandhi has captured the essence, the simplicity, and the mood of that era in her forthcoming book 'Reflections of an Extraordinary Era' to be published later this year. It is a personal account of the times, as remembered, experienced and seen through the eyes of a fourteen-year-old. It is about her childhood and her family. She writes about Mahatma Gandhi as a grandparent – not as a leader and a visionary the rest of the world knew him as. She asserts she is a granddaughter of Mohandas Karamchand Gandhi, not Mahatma Gandhi.
Born in the Delhi of 1934, she has witnessed its transformation from a relaxed, slow-paced, politically charged city into the chaotic, at times alienated, megalopolis it is today. The book also introduces the reader to her other family members – mother Lakshmi, brothers, uncles, aunts, and cousins. The opening chapter of the book recalls the family's move from the environs of an ashram in north Delhi to a large apartment in Connaught Circus –the hub of social activity at the time. Tara reminisces:
"My first conscious memory is of what is known as Kingsway Camp in north Delhi. Almost seventy-five years ago, situated at one end of Delhi, in the sprawling village centre was an ashram called Harijan Colony. In that ashram we had a lovely, small house. The first few years of my life are strongly imprinted on my consciousness for their simplicity.

<![if !supportLineBreakNewLine]>
<![endif]>
Read the entire article in the print edition of The South Asian Life & Times
subscribe@the-south-asian.com