The Way to the Summit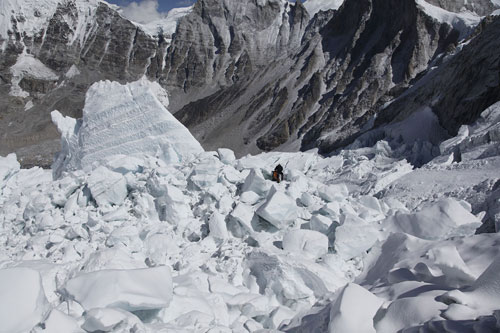 The icy madness of Khumbu Icefalls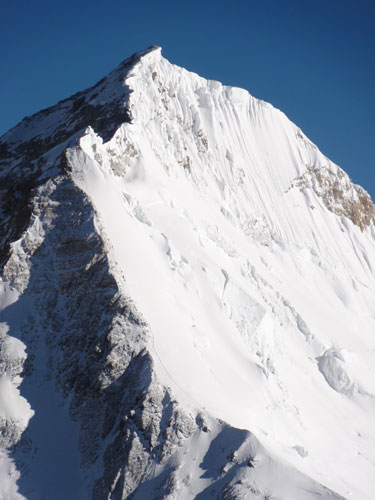 The south-east ridge Photo by Simon Arnsby
Base Camp | Khumbu Icefalls | Western CWM | Lhotse Face | Yellow Band |
Geneva Spur | South Col | Southeast Ridge |
South Summit | Cornice Traverse | Hillary Step | Summit
Reinhold Messner, the distinguished mountaineer and the first to climb Mount Everest without supplemental oxygen, aptly described his summit experience: " I am nothing more than a single narrow gasping lung, floating over the mists and summits."
The three-sided, pyramid-like 29,035' high Mount Everest was chiselled into its unique and distinctive shape by mighty glaciers, which, not-so-mighty now, continue to sculpt it – Kangshung Glacier on the east; East Rongbuk Glacier on the northeast; Rongbuk Glacier on the north; and Khumbu Glacier on the west and southwest. The three faces are delineated by three distinct ridges on the north, south, and west sides of the mountain – hence the terms North Face, South Face etc. The standard routes for climbing Everest are the South Col-Southeast Ridge route from Nepal, and the North Col-Northeast Ridge from Tibet.
Mount Everest might not be the coldest place on planet earth but temperatures at the summit remain below freezing all year round, ranging from nearly 0°F (about -18°C ) in July to as low as -70°F (-60°C) in December and January!
There are two climbing seasons on the Everest – the summer season in May, before the monsoons set in, is the usual and more popular season. The winter season, which commences in October, is the preferred time for the brave-hearts.
An Everest climb usually takes about six weeks. It all begins at the base camp!
Read the entire article in the print edition of The South Asian Life & Times
subscribe@the-south-asian.com