Dr. A. T. Ariyaratne
– "No- poverty No-affluence society"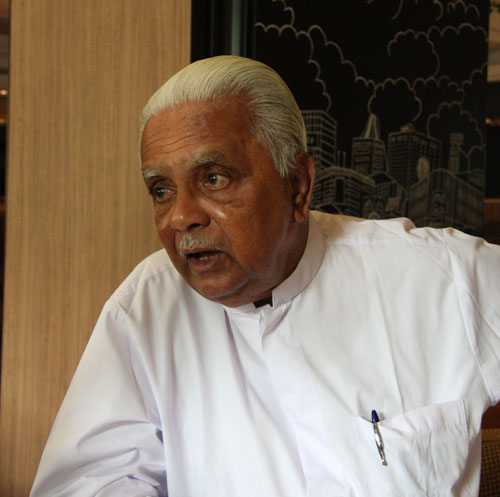 Nominated for the Nobel Peace Prize in 2005, Dr. Ahangamage Tudor Ariyaratne – known fondly also as Ari – is not a household name outside of Sri Lanka. The soft-spoken, low-profile founder and President of Sri Lanka's Sarvodaya Movement, has mobilized millions of people from all faiths in 15,000 villages to work together on development projects – on the sheer strength of his Buddhist-Gandhian principles. It is perhaps the world's largest peoples' participatory development movement - known for bringing people together. In the 60 years of his relentless work, he has empowered millions of people in Sri Lankan villages through self-help and collective support. They have together built thousands of schools, community health centres, and libraries; set up banks; dug wells and toilets; encouraged and introduced solar energy and biodiversity – and most importantly Peace. His large following of people from different faiths and communities have learnt to live and work together in harmony.
Ariyaratne's message has always been that of non-violence and compassion. And it has worked. Many scholars often call him 'Gandhi of Sri Lanka.' Like Gandhi Ji's prayer meetings, Ariyaratne also conducts meditation sessions in which hundreds of thousands of people converge to pray for peace. He has been honoured with the Gandhi and Niwano peace prizes, and the Magsaysay and Hubert H. Humphrey awards, among many others. In 2007, Dr. Ariyaratne received 'Srilankabhimanya' (pride of Sri Lanka) - Sri Lanka's highest civilian honour.
Ariyaratne was born November 5, 1931, in the coastal town of Unawatuna – to parents who were devout Buddhists. His home now is within the Sarvodaya complex in the town of Moratuwa near the capital Colombo. "I always believed that man had a higher purpose in life, a spiritual purpose, which is quite the opposite of going after power, money or publicity," Ariyaratne says.
In an exclusive with SALT, Dr. Ariyaratne spoke of his work, and shared his views on some real social issues.
Read the entire article in the print edition of The South Asian Life & Times
subscribe@the-south-asian.com