Lt Gen Jack Jacob
– "I am a soldier, I did my duty"
In conversation with Roopa Bakshi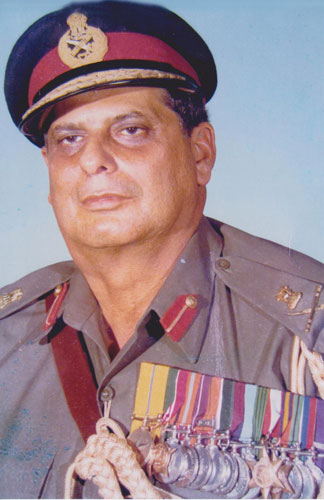 He is regarded as straight-talking and politically astute. His courage, strategic thinking and boldness changed the course of history in the Indian sub-continent. He planned and steered the campaign that led to the liberation of Bangladesh in 1971. Not many people know that Lt General Jack Jacob (Maj Gen at the time) single-handedly converted a proposed ceasefire into an unconditional public surrender – the only one in history.
An avid angler, painter, writer, golfer, and an environmentalist – he is first and foremost a soldier.
(Main article)
It was a matter of great privilege to have met Lt Gen Jacob in mid-March 2013 – the man who planned the campaign for the liberation of Bangladesh and single-handedly converted a proposed ceasefire into an unconditional surrender by the Pakistani army on 16 December 1971 in Dacca – thus saving thousands of innocent lives from imminent homelessness and death. Millions had already left their homeland, known at the time as East Pakistan, to live as refugees in India and countless thousands had become victims of brutal excesses and killings.
An account of how he made it happen was written in his book Surrender at Dacca: Birth of a Nation – published in 1997. The book, which he personally presented to Field Marshal Manekshaw and Lt Gen Aurora, has been translated into several languages. His autobiography 'An Odyssey in War and Peace' -first published in 2011 - will soon go into its third print. It has become a bestseller and is being read around the world. It tells his remarkable story, as a little boy belonging to the small Jewish community in Calcutta of the 20s, his schooling in the Himalayan town of Darjeeling, and his almost 40-year long career in the Indian army. He says in his book: "Although I was one of only a few Jews in the army, I never came across any anti-Semitism, only enthusiasm and acceptance." The fact that in 1971 the top-brass in the Indian army came from minority communities is testimony to India's pluralism and Indian army's secular values - The Chief of Staff Lt Gen Manekshaw (later Field Marshal) was a Parsi, The Chief of Eastern Command Lt Gen Aurora a Sikh, and Chief of Staff, Eastern Command Maj Gen Jacob from the small and dwindling Jewish community. The Defence Minister at the time, Mr. Jagjivan Ram, also belonged to a minority caste.
Lt General Jack Jacob, now 90 and a bachelor, lives in Delhi – in a modest apartment in an unpretentious housing complex. His lifestyle is uniquely his own. Several high-backed throne-like chairs dominate his living room – and so does a painting he made many years ago of his unit just before a combat. It is indeed a work of art. Books on military history are stacked on his coffee table. Not only did General Jacob attain the highest rank in the army – he also, after retirement, served as Governor of two states – Goa and Punjab, where he left a remarkable legacy behind. He was loved and respected for the reforms he brought about – economic and environmental - in both the states. Not only did Gen Jacob protect Goa's huge natural forests, but he also dealt effectively with the corruption rampant in the state. The Herald, on the eve of his departure from Goa to take over as the Governor of Punjab, wrote: '' When he took charge of the administration of the State, 'the economy was in shambles and the state virtually bankrupt… Lt Gen Jacob rose magnificently to the new challenge with his "hands on" style of governance [and] total commitment to the ordinary citizens of the state.'
Born in Calcutta in the early 20s to prosperous Baghdadi Jewish parents whose ancestors had lived in Calcutta for almost 200 years, Jack Jacob spent the most important years of his life in Fort William, Calcutta – first as chief of staff and later as army commander. He retired from the army on July 31, 1978 after a four-year tenure as army commander in the city he loves – Calcutta. Before he retired he donated his family's priceless furniture to the mess at Fort William – a mahogany dining table with chairs to seat thirty-six, and many other exclusive and antique pieces. He has donated half his art collection to the artillery mess in Deolali where a road has been named Jacob Marg.
Read the entire article in the print edition of The South Asian Life & Times
subscribe@the-south-asian.com