Hillary & Tenzing – Climbing into the Unknown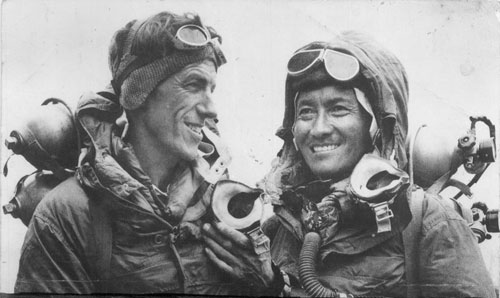 Hillary first visited the Himalaya in 1951 as a member of an expedition led by Eric Shipton. Together, they showed that it would be possible to climb Everest from the southwest up the Khumbu icefall and into the Western Cwm. The earlier attempts were all from the north side through Tibet. The following year, in 1952, Raymond Lambert and Sherpa Tenzing Norgay, as part of a Swiss expedition, pioneered a route up the steep Lhotse face, reaching the South Col at 28,000 feet. This was Tenzing's sixth time on Everest. The familiarity with the mountain no doubt helped Tenzing immensely the following year when he, together with Hillary, stood on top of the highest mountain in the world.
The 1953 British expedition led by Col John Hunt was a massive teamwork of over 400 individuals. In their gradual but steady approach towards the summit, they set up nine camps – compared to the four that are required today. Hillary had a narrow escape while moving loads up to camp III, when he plunged into a crevasse, and was saved by Tenzing.
The first pair of climbers sent to the summit during the 1953 expedition "turned back 330 feet short of the top, low on oxygen." John Hunt then sent Hillary and Tenzing. They spent the night of May 28/29 at Camp IX - 1,000 feet from the summit and 2,000 feet higher than today's highest camp on the same route. They left at four o'clock in the morning, making their way cautiously to the South summit.
Read the entire article in the print edition of The South Asian Life & Times
subscribe@the-south-asian.com