An Odyssey in War and Peace
An Autobiography Lt. Gen J.F.R. Jacob
Roli Books, New Delhi, 2011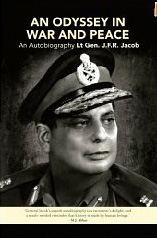 Reviewed by Dr Gautam Sen
President of the World Association of Hindu Academicians (formerly Lecturer in Politics of the World Economy, London School of Economics and Political Science).
General Jacob has written a truly fine autobiography of his life and career in public service that runs parallel to the history of India since independence. I should confess at the outset to being his friend and admirer, but the General needs no recommendation since his life's record speaks for itself.
His has been a truly remarkable life that he pens compellingly in this autobiography, which I earnestly urge others to read. His military career and continued public service after retirement are an important commentary on Indian public life. It should concern Indians who wish to leave the intact legacy of a country for their children and grandchildren.
The relatively condensed, but intense autobiography begins with his early life as a Calcutta youngster, followed by his military career before and after Indian independence. It is followed by the climactic moment of his military career, the war of Bangladeshi independence, for which his previous 43-year military career appears to have been a preparation. The final phase of his public life ends with his magnificent tenure, in succession, as Governor of Goa and then, the Punjab.
The account of the young 'Jake's' youth in Calcutta brought back some nostalgic memories because my early life was also spent there and I recognised the sounds and smells he describes so well. He made the momentous decision to join the army in 1938 (barely seventeen), despite showing early scholarly promise, in order to take on the menace of Hitler that was to subsequently ravage European Jewry. In an indication of his independence of mind and moral courage, he did not share the decision with his family initially though they supported him when they learnt of his reasons for wishing to become a soldier. Yet, in retrospect, Jacob, the potential scholar, recalls his army career, with its hardships and dangers and, no doubt, the satisfactions of comradeship too, as having been the best choice for him. The demands of army life twice robbed him of family life, the second occasion of an abandoned romance, which he recalls with regret.
General Jacob served in Iraq, Burma and Southeast Asia, earning the respect of senior British officers and anecdotes of his experiences during this period, personal and professional, are entertaining. He praises British officers for the respect they accorded to competence, which he contrasts with the racial prejudices of US officers he was to encounter many years later, when he visited on a training exercise. He served with some distinguished veterans of WWII, including Viscount Slim of Burma and was once invited to join Lord Louis Mountbatten at the dinner table when the latter observed his Indian army epaulettes.
Read the entire article in the print edition of The South Asian Life & Times
subscribe@the-south-asian.com