Everest at 60
- From an Expedition peak to a Commercial peak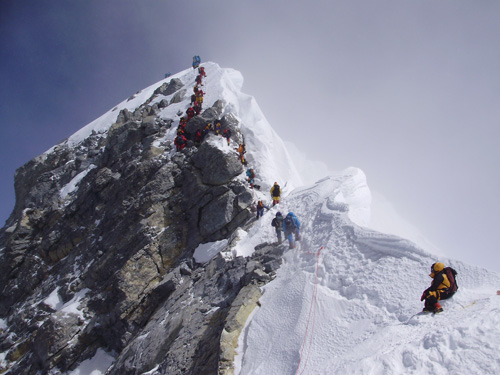 Everest Summit Day 19 May 2009 - Long line of climbers heading from the South Summit along the ridge toward Hillary Step, and onward to the Summit. Photo courtesy Summitpost.org
Other Names: Chomolungma (Tibetan) or "Goddess Mother of the World"; Sagarmatha (Nepalese)
Height: 29,035 feet, (8,850 meters) Everest is the highest point on Earth.
Location: On the border of Nepal and Tibet
Coordinates: 27°59′17″ N / 86°55′31″ E
Age: About 60 million years old
First Summit: Sir Edmund Hillary and Tenzing Norgay on May 29, 1953
Climbers: In the last 60 years, 15,000 men and women have tried to climb Everest. Over 3,000 have succeeded and more than 200 have died.
Rising nearly five and a half miles (8.85 km) into the sky, Mount Everest in the Himalayan range is the tallest mountain, above sea level, on earth. The first humans to step on the 60-million-year-old were Edmund Hillary and Tenzing Norgay, who made history sixty years ago in May 1953 – no human being before them had stood on the summit of the highest mountain in the world and experienced its altitude. They went up Everest as committed adventurers and came down as 20th century icons.
Hillary, a tall, lanky, amiable beekeeper from New Zealand, and Tenzing, his ever-smiling Sherpa guide from Nepal/India, were part of the British expedition led by John Hunt. And so was James Morris, the 'Times' correspondent from London covering the expedition, who managed to get the news, through an elaborate system of codes and runners, into the paper on the morning of 2 June 1953 – the news of their success arrived in London on the morning of the young Queen's coronation - and turned it into a double celebration. The Queen promptly made Edmund Hillary a Knight Commander of the Order of the British Empire, while Tenzing Norgay received the George Medal of Britain and other honours.
Before the 1953 British expedition, 10 major expeditions had attempted - and failed - to reach the summit. And Tenzing had been on six of them. In 1924, two Britons, George Mallory and Andrew Irvine, disappeared trying to reach the top.
Though Sherpas and their Tibetan kin had known Everest - or Chomolungma - for centuries, not one of them had wanted to climb it until Tenzing Norgay came along.
Read the entire article in the print edition of The South Asian Life & Times
subscribe@the-south-asian.com